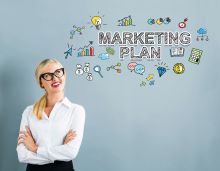 The property market is as busy as ever these days. Distant memories of the global economic crisis and the ensuing property market slump fade even further into the annals of history, as property after property is snapped up by eager buyers, sometimes just hours after they are put on the market. Property prices are remaining defiantly high and land registry sold prices compared with house valuation results show that investing in property is fast regaining its allure.

If your estate agency seems to be missing out on all this action, it could be that you need to take a closer look at how you are promoting yourself in order to ensure that you stand out from the extremely competitive crowd. Read on for three tips on how you can make sure that your agency gets the attention it needs to draw in new customers.

Be different

It sounds obvious, but if you think about it, anyone shopping around in a market of identikit agencies is likely to end up just choosing the first one they speak to. After all, they're all the same. By distinguishing yourself from the others, you stand a much better chance of being noticed. To do this properly, take a look at your current marketing material and that of your competition. Not the tone of voice, language and even colours used. Look at how you are advertising. Are the vinyl wrapped cars, window displays and fliers posted through random front doors enough? The point is you need to think outside the box if you want things to change.

Be sociable

Let's face it, social media is now a fact of life. If it hasn't been shared on social media, it might as well not have happened. So leverage the power of "social" and talk to your potential customers where they hang out the most. Remember, however, that social networking done badly can be damaging to a brand, so keep to what you know and respond to all comments, whether positive or critical. Add share buttons to your property listings to generate more awareness and use platforms such as Instagram and Pinterest to give additional images of your properties and their surrounds.

Be a thought leader

Another very good way of getting noticed is to share knowledge. For the majority of people who walk through your doors, buying or selling a property will involve the most significant financial decisions they will ever have to make. Should they sell now or wait? Will the cost of renovating their dream property add up to increased equity or merely increased debt? Most people will want a knowledgeable agency to help guide them through the twists and turns of conveyancing. Get your opinions in the local press, write and publish whitepapers and speak at industry events. Remember, for your opinion to matter, you need to give it!
Source: www.nethouseprices.com