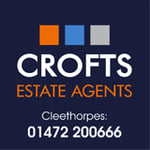 Crofts Estate Agents, Cleethorpes
62 St Peters Avenue
Cleethorpes
NE Lincolnshire
DN35 8HP
Crofts was established in 2005 and has established itself as a leading independent estate agency specializing in Residential Sales, Lettings, New Home Sales, Land, Property Maintenance, providing EPC's and Independent Financial Services.
With record sales across the region 2013 was a great year to sell with us having out sold our competition in our own postcode. Our sales added up to more than the top three Grimsby Agents sold put together. It also out sold all each other Cleethorpes agent by over three to every two. This hasn't come about by accident but by the hard work and dedication of the excellent, experienced and qualified staff plus management we have. We want more enthusiastic sellers to try.
With over 60 years of combined experience we have an extensive knowledge of the local property market, allowing us to offer a wide range of services giving you the exact product you are looking for. Crofts offer all the traditional values you would expect from an established business and have combined them with the latest technology and industry related innovations to create the best formula to get results. We are striving through demanding excellence to provide an all round good property experience for anyone, company or individual on any business that we undertake. Crofts will never be standing still resting on its laurels but will be seen setting the standards for the future of local Estate Agency.