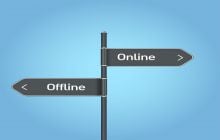 Is online marketing the best way to sell a property?

In today's competitive housing market, estate agents are using more and more innovative ways of attracting viewings and finalising sales. Over the past few years, the role of online marketing has become an integral element of any effective marketing campaign. With a number of estate agencies being established which focus solely on web, social media and online advertising, is it true that other methods are becoming less effective, when it comes to driving sales?

It would seem not. Despite the rise of online firms, it seems that when it comes to purchasing property, people still welcome more traditional techniques to support them to make potentially the largest purchase of their lives. With that in mind, the following tips are designed to maximise success rates for selling property, combining the best of both worlds when it comes to securing sales.

Leveraging the power of both on and offline advertising

When it comes to sales success, the most effective approach is a combination of both traditional, and non-traditional mediums. Local papers, shop front photographs and a proactive online presence all work together to attract the broadest range of potential viewers.

As trends in marketing preferences seem to fluctuate depending upon the potential age of purchasers, a tailored approach to marketing specific properties reduces marketing expenditure and removes the need for a 'scatter gun' approach. For example, a bungalow in a quiet residential area may sell faster if advertisers work through local papers, whereas a bachelor pad in a fashionable location may sell more effectively through social media and online exposure. UK house prices are escalating, so it makes sense to economise through tailored marketing.

Combatting reduced sales resulting from increased property prices

Regardless of the medium used to promote the property, effective photography is still key to generate interest and drive viewings. It stands to reason that attractive, well-taken and informative images encourage potential purchasers to establish immediately favourable responses to a property. People can determine house prices by postcode, seeking out relevant properties to lead them to your site. With this in mind, use professional photographers to capture the unique selling points of each property.

Viewing numbers will always be essential to maximise the chances of success for sales. As a result, estate agents who use open house sessions, and make themselves highly responsive and available are more successful than those who reduce possibilities for viewings.

Creating a virtual viewing

As viewing a property is usually the clinching factor in purchasing decisions, more and more estate agents are turning to 'virtual' viewings to present properties. Creating a well-produced walkthrough, which potential buyers can view online, works in two ways. It allows people who ultimately may not like a property to discount it, reducing wasted time for you, while promoting the property and generating positive viewing requests for those who are interested after seeing the virtual walkthrough.
Source: www.nethouseprices.com