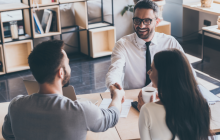 For estate agents, winning instructions from housebuilders and developers has become increasingly competitive in recent years. Housebuilders represent a steady income stream for agencies, and the land and new homes sector is a highly lucrative one, but estate agents must be proactive and innovative to get ahead of the competition.
The Benefits of Being a Housebuilder's Estate Agent
Housebuilders provide a steady stream of income to estate agents. If you're selected to market the whole development, one client could bring in multiple sales. It's also a mark of an agency's credibility and industry standing to be chosen from the many options a housebuilder has available to them — giving your brand a serious boost, which could indirectly attract new customers.
Housebuilders typically establish strong yet small networks. Get your foot in the door with one developer and others may follow.
Tips for Pitching to Housebuilders
Successful estate agents have a carefully honed approach to securing instructions from developers.
Be Proactive in Sourcing Land:
All developers need prime land on which to build, and they're likely to reward those that deliver the best opportunities with instructions for their properties. Make sure you have a system in place for identifying local land opportunities and capitalising on them fast. Research every local new build site — sites with planning permission granted or submitted and new build units with planning permission granted or submitted.
Do Your Research:
Make a list of all the developers in your local area, and research their brand, properties and target buyers. Housebuilders are bombarded with people wanting to partner with them, and they won't be impressed if you haven't taken the time to develop a solid understanding of who they are and what they do. Build a list of contacts, find out who you need to pitch to and make a note of their email address. By establishing a network of housebuilders you will be in an excellent position to clinch the deal on any new land that comes to the market.
Write a Killer Email:
A generic sales pitch won't get you anywhere with professional developers. You need to stand out from the competition by writing something memorable that aligns with the agency's brand. Pinterest is full of innovative "pop by gifts" that you can take along to a developer following your introductory email — nothing beats a face-to-face pitch when it comes to building relationships and winning new clients. Make sure the gift is branded and eye-catching. If you know the name of the person you want to pitch to, personalised items can work well.
Offer Added Value:
Housebuilders want to know that you have the skills and means to sell their properties. Give them a reason to choose you over a competitor by offering added value such as part-exchange and guaranteed purchase schemes. By partnering with a specialist company that offers these services, you can offer practical solutions for a housebuilder's biggest headaches — delays and lost sales due to buyers struggling to sell their current homes. Guaranteed sales and part exchange properties help developers avoid the frustrations of problem house chains, keeping their development plans on schedule and eradicating the risk of a failed sale.
Winning instructions from housebuilders is no mean feat, but the rewards definitely make it worth a little extra effort. If you do your research, craft a memorable pitch and add value to your offer, you'll be on the way to building lucrative and long-lasting business relationships.