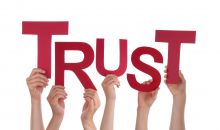 We buy from people we know and trust. This is as true in relation to estate agents as it is for any other business. Strategies for developing new business needs to focus on building trust.

That trust is built up by both familiarity and value. You need to be reaching out to people frequently enough that you are one of the top three estate agents that come to mind when they eventually decide to sell. This gives you a good chance of being the one they sign up with.

Become a familiar face

You can build up that familiarity through regular contact. Send out frequent leaflets, post on Facebook and Twitter regularly, set up partnerships with and sponsorships of local schools, sports organisations, local businesses, charity events, etc. Send thank you cards to past customers, send birthday cards to everyone on your database (so don't forget to grab someone's date of birth when collecting their details - in fact, if can do it, get the whole family's birthdays!).

Build trust

You can build trust by sending out information that is of value to people. How do you know what might be of value. Well, coming back to that all important database - you may have captured something about a potential client's interests, or hobbies. So send them emails of upcoming events that you've come across that they may be interested in - or reviews of films you think they'd like, or recipes, or websites you recommend that helps them. Send out newsletters about the housing market in your area. Send out anything that says you care about them, that you've got their interests in mind. If you don't have anything else, you can be sure of one thing - everybody is interested in the value of their home. Send them information on how they can increase the value of their home, or send them analyses of how house prices have changed in their area.

Both familiarity and value can be built up by writing a blog, or publishing a podcast. You will be seen as an expert and someone with their finger on the pulse. Focus on issues that are going to be relevant to vendors, and to landlords.

Don't forget the numbers

Building new business is also a numbers game. So you need strategies to build your lists. Strategy number one should be to make time for lead generation - block out chunks of time in the diary. It should be one to two hours every day. On your website, offer to provide an expert guide in exchange for an email address. Go through expired listings and contact people, offering them something of value.

There are many strategies one can employ to build a list. Remember, though, that a list is not going to be much help unless you can establish trust. So always have a mindset of contribution and giving. Then the rewards will come.
Source: www.nethouseprices.com