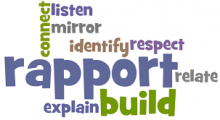 How often do you attend market appraisals only to discover later on that the property owner has decided to work with a rival agency? While this is an everyday part of business and no one can win all property instructions, if your conversion rate is lower than you would like, or if new players in the local market are eating into your profits, it might be time to look at ways you can improve.

Do your research

You might think you know the local area and its properties like the back of your hand, but it's easy to become complacent. Vendors will notice a lack of passion or a gap in your knowledge, so go into every single appraisal as well equipped as you can be. Never attend an appraisal without having up-to-date information on sold house prices in the immediate area. You should know how many houses have sold recently, and exactly what they sold for. Depending on the nature and size of the street the property is in, you may need to cast your net a little wider and look at the whole neighbourhood. Print off a list of recent sold house prices to give to your client. Take a handful of current property brochures along with you - ideally similar to the vendor's property in terms of price, location or property style - to show them how professionally and attractively you will market their home.

Build a rapport

Rather than checking out the entire property immediately, sit down with your client and ask them if you can have a quick chat about the selling process and the property before they show you around. This will also allow you to gauge how serious they are about selling. Find out how soon they plan to list their property, and explain how you wish to approach both the appraisal and the potential marketing of their home. By the end of the chat, you should have built a rapport with the potential client, and have a good idea about their expectations.

After viewing the property

When it comes to discussing price, remain positive and suggest ways the client can command a higher asking price by making simple or affordable changes. This will show you are proactive and will help the client achieve the best possible price for their property. Most vendors will have several agents take a look at their house, unless they are acting entirely on a recommendation from a trusted acquaintance, or have had a previously very good experience with a particular agent. While fees are generally by far the most important factor in a vendor's decision to instruct an agent, the hard-sell of many agencies can be hugely off-putting. By appearing knowledgeable, professional and proactive, you can ensure you remain in the vendor's mind and you stand a good chance of being their first choice.
Source: www.nethouseprices.com