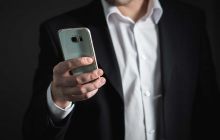 How an estate agent manages their telephone calls can have a huge impact on their success. If you're answering calls from potential buyers and sellers quickly, in a professional and efficient manner, then you're more likely to win their business.
Whether you're an estate agent with a hundred branches, or you're a lone wolf in your car, inbound call management applications can help you save more time and make more money wherever you're working from.
Here, we look at how some of the most advanced cloud-based call handling features can help estate agents of all sizes.
Interactive call menus
When the phone rings, it's a mystery what the call is about. Whoever answers it has no idea if they are the right person to deal with that enquiry. If they're not, this extends the length of the call and hampers productivity.
With an interactive call menu, also known as an IVR or virtual switchboard, you can ask your caller a couple of quick questions to make sure their call goes through to the right person or department.
If the call is to enquire about selling their property, ask them to press 1. If you're a branch with multiple employees, this will divert their call through to the desk of one of the available estate agents. This can either ring all of their lines at once, or ring them in a certain order. This could be based on how many 'leads' they have had this morning, for example.
Option 2 could be for booking viewings from listings they have seen online, and option 3 could be for lettings.
Not only does this ensure calls go to the right person every time, but call statistics also give you visibility on how many calls are for which department.
Call Queuing
If you're a busy agency with a lot of calls, then sometimes it can be hard to manage your call flow. Using a cloud-based call queue means that your customers will never hear an engaged tone again. They will simply be asked to hold the line and wait for an available agent, or you can choose to offer them the opportunity to lodge a call back request for when you're less busy.
You can choose to only queue certain call types. For example, if you are struggling to deal with the volume of lettings enquiries, you can queue those callers for your lettings team to let another department deal with their own enquiries.
It's infinitely flexible and customisable, to make it the perfect solution for an agency of any size.
Call recording
We've all been there. Whether or not you failed to take down the right details, or you just want to make sure they did actually just say that. With inbound call recording available on all of your calls, you can record conversations that are answered on either the office phone or on a mobile. The facility also makes a great training and quality monitoring tool.
Mid-Call Transfer
If one of your agents is out of the office, but a colleague has picked up an important call, you can transfer the customer directly through to your agent, even if they are on their personal mobile. The caller will only ever have access to the number they have dialled, meaning no personal data is shared. This can also be used to transfer calls to other branches, even if they are on completely different phone systems!
Voicemail to Email
The Voicemail to Email function turns your standard answerphone service into a clever collaboration tool. Whenever a call comes through to your number and it cannot be answered, callers will be asked to leave a message as normal. However, once this is complete, the message is instantly emailed to up-to three different people, or more if you use a group inbox.
This means that you don't get messages locked away waiting for one person to access them, and will boost the time it takes for you to get back to your clients.
Call statistics
Tracking how many calls you have made is easy, as it will be displayed on your phone bill every month. However when it comes to tracking your inbound calls - where do you even start? Luckily if you adopt a cloud-based telephone number and system, you will be able to see every single call that has come in to your system. You can view data like peak periods, missed call volumes, average ring duration per employee and so much more.
If you choose to use multiple numbers for your advertising, you can track which number performs best in each of your campaigns. Perfect for managing your spend!
Source: Flower Telecom 12th May 2017