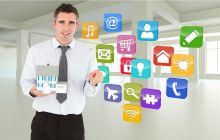 For an estate agency to be successful, their online presence must be potent to allow for growth and stability. There are various marketing techniques to grow a business online, including:
Search engine optimisation

Pay per click

Email marketing

Video marketing

Social media

Affiliate based marketing

Retargeting
The above list has one thing in common; they aren't just marketing the business, but actually the business' website. Most online marketing strategies are designed to lead a customer back to the website to browse and ultimately enquire about property listings or potentially other services such as landlord or seller valuations. To be effective online the above marketing techniques are important to do, but if the marketing core, i.e. the website, is ineffective, then it will all be done in vain.
"So how do I make my website successful? In fact, how do I make my website perfect?"
When designing and developing a website, there are different elements that need to be considered. The country/region, industry and audience all depend on how the website will be built. Things also change very swiftly in the digital industry, so current/outdated trends need to be considered and researched thoroughly.
There are certain features though, that should be implemented on all websites. Some of these include:
Always supply an avenue for the user to contact the business

Many enhanced calls to actions

Social media integration

Website search to quickly and easily find property listings

Bespoke design/development elements relevant to the business

Maintaining the business' branding throughout for consistency

Fully responsive on all major browsers and devices

Suitable animation/interactivity

Simple user flow

Intuitive navigation
Once the perfect website has been made for an estate agency, users will want to browse and read what you are offering them, and ultimately leads/sales will increase because of the higher conversion rate on increased traffic.
There is no universally perfect website. However with some expertise, awareness and implementing standard attributes, perfection is not out of reach for an estate agency's website.
Source: Property Webmaster 10/08/2017