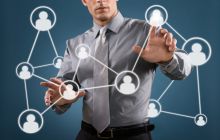 Most networking leads nowhere. In fact, Harvard Business Review reckons that 99% of all such interactions are a waste of time.

Secretly, we don't need Harvard Business School to tell us this, and yet we keep doing it. Why? Perhaps it's because we all know someone who manages to make it work for them and we think that if we keep plugging away some of the magic might come our way.

It can do - but only by using an effective strategy and putting it into practice at every networking opportunity. So here are the top five "must dos" for networking.

1. Use your internet platform to snare your target

Perhaps there's someone in your business community that you want to know, but never seem to get to talk to at networking events. Use your blog, podcast or even social media page to interview them. Tell them that you are interested in what they have to say about a certain topic and you feel that a lot of other people would be interested too. Most business professionals will be flattered, and it gives you an opportunity to talk to them individually and start getting to know them.

2. Offer mutual assistance

Stop concentrating on what other people can do to help your business and think about what you can offer to them. The way to build a relationship is to mutually give and accept benefit. Be sure to retweet them on Twitter, like them on Facebook and make some kind of meaningful but not obsequious comment on their blog. A good tactic when commenting on a blog is to ask an open question that may draw them into a discussion, or at least make them notice your name.

For example, if someone comes into your office wanting to rent a house and you don't have a lettings department, don't just send them up the road. Choose the person that you most want to network with and call up to pass the business to them personally.

3. Never ask a closed question

When you finally get to interact with someone that you really want to make contact with, it's a little like dating. If you ask a closed question like, "How long have you been a lettings agent?" you'll typically get a closed answer such as, "Three years." End of conversation.

Make sure that all your questions open up the exchange, for example, "How do you find the lettings business in Glasgow ?" Remarkably, most people are more than happy to talk about themselves and give their opinions.

4. Network outside the business context

Whether it's playing in the local agencies' five-a-side league, or joining up with them for a Children in Need event, get known in your local business community, outside of the business context. This is high-quality networking and means that the next time you attend an event, you know people and they know you. If you want to impress as a mover and shaker, organise an event yourself that involves other agencies.

5. Be yourself

No one wants to meet yet another office drone. Your real self is probably far more interesting than the "business" self you project. Have the confidence to let people know who you really are. If you're a new parent, confessing that you're sleep deprived will definitely get a more authentic response than boring people with your annual performance figures.

Keep working these strategies, and eventually, you'll find you're the one that people are keen to network with.
To advertise your properties for free, click here http://nethouseprices.com/information/advertise
Source: Nethouseprices 22/9/17