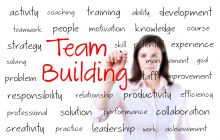 1. Do what you enjoy

If you don't enjoy the business that you're in, you're never going to find the energy or motivation to put in the hours that a new business demands. So you need to find out what you're passionate about. For example, you may be interested in the lettings business, but is there a sector that you particularly enjoy dealing with?

If you love the fast-moving world of city centre flat letting for young professionals, don't get bogged down in suburban house lets for families with labradors. After all, who are you most likely to enjoy networking with? The flat dwellers, who are probably in your social group anyway.

2. It's your business, do it your way

Starting a new business often means satisfying bank managers and others, and it's easy to lose sight of who you really are, when you are trying to impress people with your professionalism. Remember that clients don't want the same old, same old. So do it your way and offer people something that they maybe haven't seen before, or that is familiar but done in a different way.

3. Work / life balance matters

If you're in this for the long term, it needs to be sustainable. Partners and children will be understanding if you explain that you're in the startup phase, but you can't continue at that pace without burning out and your stress levels having an adverse effect on your family and relationships. So build in family and leisure time from the outset.

4. Invest in technology

You need to make the business as productive as possible and try to avoid hiring staff until you really have the cash flow to justify it. So invest in decent IT and use any gadget that makes your time more productive. For example, digital voice recorders combined with a speech to text recognition system may mean that you don't have to hire admin staff just to do transcriptions of house details.

5. Cash flow is the lifeblood of the business

Don't mistake being busy for being solvent. In the manufacturing sector, many businesses go to the wall with a full order book because they have overstretched themselves. In estate agency, new businesses can find themselves very busy in spring and summer, with lots of money coming in, but they fail to notice that there will be a cash flow crisis during the winter. Learn how to do a proper cash flow forecast and update it every week.

6. Be your own brand

You may have set the business up under your own name, or you may have thought up a business name. Either way, from day one you are building a brand. Think carefully about what that brand means, how you want to develop it and how you will make clients aware of it. Then you can make sure that your office furnishings, typeface, website, social media, physical signage, logo and advertising all contribute to building brand awareness.
Source: Nethouseprices, 04/10/17