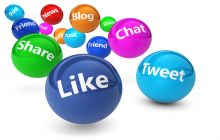 When they asked a famous bank robber why he robbed banks, he replied, "Because that's where the money is." Today, anyone asking why social media matters so much for estate agents will get a similar reply - "because that's where the business is". In case you're in need of a rationale, here are the ten key reasons why social media is crucial for success in estate agency.

1. It's precise and targeted

Everyone has seen the global numbers for social media users - however, impressive as these are, most estate agency is not global, and by and large, Twitter users in India are not going to buy that nice apartment you've just taken on. What really matters is the ability that social media gives you, to focus on your precise customer base, and then interact with them. This can make the difference between increasing sales or instructions, or losing them.

2. Its how you find out about your customers

When people "like" a post or comment, or retweet, they are providing you with data that can be key in marketing to them. Facebook Ads provide a great feature called "lookalike audience", which allows you to target people who are very like your existing customers. You choose the attributes of the audience you are seeking and Facebook goes off and does the work.

Similarly, Instagram's geo-tags and #tags have huge potential for location-based businesses, such as estate agency. Again, it means setting up your Instagram presence to take advantage of the technology. Use tools such as HootSuite to measure your social media impact and keep an eye on competitors at the same time.

If this all sounds a little daunting and technical, nethouseprices.com can help you to set this up, along with other social media features, and can rapidly get you targeting potential customers.

3. You can tell a "story" with a feel-good factor

Once the stress of moving is over, you can go back to your clients and ask them what was good about your service and perhaps get some positive feedback from them, so that your readers get a sense of stories with happy endings. They'll be more motivated to contact you when they start thinking about moving, if your brand inspires positive feelings. .

4. You can reach decision makers and find new markets

If you're interested in business development options, you are far more likely to make useful contacts on social media. Furthermore, the people you make contact with can be researched using the same social media. This greatly speeds up the process of considering new opportunities.

5. You can showcase your difference

If you believe you have something to offer that is different from other estate agents, the less formal culture of social media may give you the space to show people how different you are. This is particularly the case if you are hoping to appeal to a younger demographic.

6. It's how you build your brand

Every interaction that you have on social media helps build your brand. When your customer meets you on Twitter, on Facebook, on Instagram and even on LinkedIn, they understand that you are a connected business and they are then far more likely to bring you their property to sell or rent out.

7. Show the way to your website

Customers often travel along an engagement path. If you can meet them where they are - on social media - then you can often point the way to your website naturally, because they want to know more.

8. You can use content to move up the rankings
Content is key here, so publishing valuable advice and information that people like and share will promote your social media presence and websites in search rankings. The more useful your content is to your target audience, the more likely they will be to share it.

9. You can build relationships

You aren't using social media to sell someone a property or get an immediate instruction - you're using it to build a relationship which may result in those things. So you need to emphasise that you are approachable, reliable and know what you are talking about. But most of all, you need to establish that you are interested in trying to help the person you are engaging with.

10. It's influential

People whose blogs or posts are widely followed often have commercial relationships with brands that want to be associated with them. It can be a very cost-effective way of associating your brand with someone who is trusted and liked. Do note, however, that posts from satisfied clients can be even more influential!
To advertise your properties for free, click here http://nethouseprices.com/information/advertise
Source: Nethouseprices 18/10/17