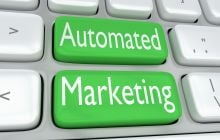 When it comes to keeping ahead of your competitors in the estate agency industry, any action you can take to streamline marketing helps you to achieve greater sales, with less effort. That is why more and more estate agencies are turning to automation in order to maximise customer reach and drive viewings, without having to undertake each activity individually.
Automation is much more than setting up e-mail responders and bulk-purchasing repeat advertisements. It's about identifying ways in which to work smarter, not harder, using available technologies to reduce the workload associated with concentrated marketing strategies and schedules. Given the benefits of releasing time to focus upon more intensive customer engagement, here are the top ways in which you can streamline marketing and communications, without requiring a huge investment of finances or resources.

Lead nurturing

Lead nurturing is the cornerstone of automated marketing. The secret to effective lead nurturing is to maintain an up-to-date and relevant database of all your contacts, in order to drive revenue and maximise customer engagement. The trick to effective lead nurturing is to establish an ongoing schedule of customer communication, whereby you set up email campaigns, flyers, and updates, which can be created in advance and programmed to issue against certain timescales.

Choose an effective marketing automation platform

There are over thirty different options for estate agencies looking to work smarter, not harder. The platforms all share a common goal, though. They all enable agencies to establish an enterprise system which enables 'drip' marketing - steady ongoing communications which leverage your customer database and maximise engagement. Platforms including Marketo, Infusionsoft and Drip all enable you to streamline campaigns and integrate an end-to-end strategy.

Queue content and let your platform work for you

Systems such as Buffer help you to implement a distribution schedule, promoting your services to customers in a queueing hierarchy. Preconfigured time slots can be integrated through your browser, which means that you can identify online resources and articles to share with your customers, effectively 'queueing' it up for cascade release.

Streamline your workflow against event triggers

Platforms such as IFTTT (If This, Then That) all enable you to simplify your marketing activities, and order your communications against a system of trigger points, which set the automation running. For example, you can write and publish a blog article on your website, revealing current UK house prices or advertising a new property, and the system will support you to automatically generate and publish a tweet to highlight it.

With a little research, it's possible to halve your marketing to maximise customer reach, without devoting all of your time and resources to promotion and advertising.
Source: www.nethouseprices.com