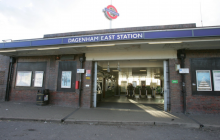 Back in July, the Office for National Statistics (ONS) released figures that made gloomy reading for home sellers and many estate agents alike: residential sold property prices in London were falling by 4.4 per cent on an annual basis. And May 2019 saw what many will hope was the nadir, when prices fell faster than at any other point since August 2009 (when the market had to absorb a 7 per cent drop as a result of the immediate effects of the financial crisis).

Despite this decline - which is not mirrored to the same extent across the rest of the country - ONS confirms that London is still the most expensive location to go house-hunting. Average property prices hover around £457,000, although the word on the ground from industry experts is that this figure may slip further as Brexit uncertainty continues to loom large.

Those who drill down into London property prices will also discover something interesting: as recently reported by the Evening Standard, one borough has managed to sidestep the fallen prices that are dogging the rest of the capital. And where is this magical borough? Well, it's Barking & Dagenham. The most recently available house price figures show that average sold property prices in Barking & Dagenham rose to £299,002 in the twelve months to June 2019.

So what is making Barking & Dagenham the capital's sweet spot?

Local estate agents highlight a number of factors:

1. Excellent travel links. Lying almost equidistant between central London and the M25, the borough is geographically well-positioned and likely to appeal as much to someone whose work takes them across the south-east or onto the continent as it is to those whose job is largely London-based. In addition to the proximity of the City and Canary Wharf, very frequent services from Barking station allows commuters to reach Stratford, the O2 and City Airport within around 20 minutes and the Eurostar at St Pancras within 45 minutes. Southend, Stansted and Gatwick airports are within an hour's journey, and Heathrow only a little more. Moreover, the new Elizabeth line services (Crossrail) from Chadwell Heath station are set to further cut journey times to destinations such as Heathrow and Liverpool Street. Once fully open, Elizabeth line passengers will benefit from 12 services per hour during peak time, which will enable them to travel through central London without needing to change services.

2. Affordable housing - or, at least, housing that is affordable when compared to comparable accommodation elsewhere in London. For example, much of Barking & Dagenham's housing stock is similar to that found in Enfield, but buyers in the east London borough can enjoy a six-figure saving on their purchase.

3. An ongoing regeneration project. Once the unhappy holder of the title, "most miserable place to live in Britain", Barking & Dagenham has been the recipient of a considerable amount of funding. This has prompted a welter of initiatives, including proposals for a marina development and £100 million television studios.

Current properties for sale in Barking & Dagenham

Properties currently for sale in the borough of Barking & Dagenham include:

- Over 150 1-bedroom properties. Unsurprisingly, the vast majority of these are flats, and they range in price between £55,000 (for a shared ownership property) to around £250,000.

- Over 100 2-bedroom properties, ranging between just under £200,000 (for buyers aged 65 or over) to £350,000. Many of these form part of the traditional terraced housing stock that is so popular with London buyers.

- More than 200 3-bedroom properties, ranging in price from around £155,000 to £550,000. With their gardens and proximity to good schools, many of these properties have obvious appeal to the family market.

- Around 80 properties of between 4 and 7 bedrooms. The most expensive property currently for sale - a 7 bedroom detached property, with two en-suites and mature gardens, has an asking price that is just shy of £1 million.

The average home takes 75 days to go under offer and 182 days to reach the point of exchange. Meanwhile, the average seller accepts a price reduction of £16,334. Just over one-quarter of sales fall through. These figures compare favourably to those applicable elsewhere in the capital.

Estate agents in Barking & Dagenham
The borough benefits from a range of established high street estate agents, many of which have long experience of selling in the area. As well as the well-known national chains, a number of more local agents also operate in the borough. Online agents are also taking an increasing market share of business. Buyers looking to purchase a property for investment purposes are well-served by a number of estate agents that specialise in lettings, including rentals on behalf of the London Borough of Barking & Dagenham.

Buying in Barking & Dagenham in 2019
Buyers who are prepared to take the plunge and who are not inclined to wait in the hope of further price falls may find that now is a better time to purchase a property anywhere in London than at any other point over the last few years. Barking & Dagenham's particular advantages and strong showing in the London-wide house price index arguably makes this east London borough one of the most attractive buying locations on the capital. Most fundamentally, indications from estate agents are that the market is seeing a four year high in terms of the numbers of sellers listing their properties for sale. Additionally, other factors that convince people that now is the right time to buy also remain very much in the favour of would-be purchasers: interest rates are still low, while employment rates are high, and lending institutions continue to offer an excellent range of mortgage products and have not yet further tightened lending conditions.
You can sign up to our newsletter and join Nethouseprice's community of over 190,000 members who get regular property tips, relevant offers and news, click here http://nethouseprices.com/auth/user-register
Source: Nethouseprices.com 11.09.19