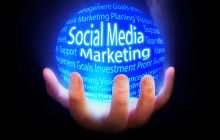 The housing market has certainly faced its fair share of ups and downs over the past decade, but nothing has changed the industry quite as much as the growth of social media and the internet. Buyers are increasingly using online sites to research and highlight properties in which they're interested. Rightmove sees over 127 million visits to its site a month, making it clear that estate agents in the 21st century need to be active and engaged online. A modern estate agent needs to be an astute marketer and must plan the best ways to set its properties apart from the other 1 million homes listed online in the UK.

Learning digital marketing doesn't have to be onerous. Here are 5 social media strategies to start using in your business today.

1 Use Social Media!

All the social media platforms are there and waiting to be used for maximum marketing gain. Make sure that your agency has a presence on all social media platforms: Facebook, Twitter, and especially the image-focused Instagram. These platforms will allow you to directly interact with potential clients. Home buyers will be able to easily share properties they like with friends and family with social sharing buttons and you can schedule social media posts to go out at key times when people are more likely to be browsing.

You can even target key demographics by using the marketing functions built into the platforms, promoting key properties to the clients most likely to appreciate them. Best of all, you can share good press and news about your agency, thereby helping people to feel involved and more familiar with the team they'll soon be tasking with finding their brand new home.

2 Ensure Your Site Is Mobile Friendly

While some people will be happy to browse through your social media feed or through a site such as Rightmove or Zoopla, there will be others who'll want to jump straight onto your website as a result of your social media activity. It's highly likely that many potential buyers or renters will be using their mobile devices - smartphones and tablets - to do this, more so with a social media audience than a general online one.

Make sure that you check that your website is accessible and user-friendly on these devices. A website that doesn't work optimally on a smartphone will send your hard-won visitor straight into the arms of other estate agencies, so it's worth investing in a fully-responsive site that will work flawlessly across different platforms.

If you want to take an extra step and give yourself a unique way of interacting with customers, a mobile app of all your listings, offering expert help and opinions from your team would be a valuable resource for potential buyers.

3 Sell The Experience

Most people are not overly concerned with the ins and outs of the housing market. They're looking for a new home that fixes or solves a problem they have with their current property. They want to visualise their new improved life. How are you helping them to achieve this?

Use a post on social media to highlight the experience of the new property and drive traffic to your listing page. Instead of talking about the en-suite or square footage, highlight nearby amenities that would suit the ideal buyer. Focus on the schools, parks, or local landmarks when selling a family home. For first time buyers, you may wish to draw attention to transport links, restaurants and the quality of the broadband.

Since your social media posts and the landing pages with detailed property listings work in harmony, your efforts here will also improve organic search traffic to your site through the search engines. Draw in niche customers and cater to the specific needs of families, dog owners, or first-time buyers.

There may be thousands of listings for properties for sale or rent in cities such as London or Manchester, but you could really stand out from the crowd by focusing on specialised demographics. Social media sites such as Facebook provide highly detailed demographic targeting capabilities for advertising, to the point whereby the only real limitation is your creativity. You could, for example, focus on special interests such as school or college catchment areas, access to public facilities or perhaps properties in low-traffic roads for worried cat owners.

4 Fail to Plan Photography, Plan to Fail on Sales

Nothing turns a potential buyer off a property quicker than poor-quality shots taken in haste on an iPhone. And this effect is magnified in the image-centric social media platforms such as Instagram, wherein sub-standard photographs will not garner interest or engagement. Use a professional with experience in capturing the essence of homes. And don't limit yourself to the property alone.

Harness the ambience of the neighbourhood and any nearby attractions or amenities with your own striking images. This will draw people to your posts and get them clicking. Original imaging is the lifeblood of Instagram and is increasingly important on the other social platforms, enabling buyers to easily share images with friends and family.

5 Stream Original Content

Social media marketing offers unique ways in which to connect with potential clients and thinking outside the box can bring increasing returns. Streaming (creating live video through social media) can be a great way to directly interact with clients: old, new, and potential.

You could try hosting online webinars on topics to draw in buyers and renters, such as '10 Things They Need to Know About . . . ' buying a home, tenancy agreements, finding surveyors and solicitors and so forth. You have in-house expertise in these areas and social media is the perfect platform on which to demonstrate it in a manner that adds value to your target audience. Videos of webinars can be reposted on Facebook and Twitter and can be used as permanent promotional assets on your website.

Another option is to host a digital open house to showcase a new listing and highlight all its desirable features. A potential buyer will feel as though they have been invited to an in-person walkthrough just for them, all from the comfort of their office chair or sofa. It will make them feel that they're saving time and they can refer back to the video again and again.

You could even show the inner workings of your agency on certain days, especially charity days such as a Macmillian morning or Red Nose Day. People love feeling that they are getting an insider view and this is an opportunity to gently promote your CSR (corporate social responsibility) and thus a chance to build a trusting relationship with your brand.

The goal of any business is to grow and grow. We hope that these 5 social media marketing ideas will help your agency to stand out from the crowd, turning those potential buyers into clients who will recommend you to friends and keep coming back whenever they need your expertise.
Nethouseprices Newsletter
You can sign up to our newsletter and join Nethouseprice's community of over 190,000 members who get regular property tips, relevant offers and news, click here http://nethouseprices.com/auth/user-register
Source: Nethouseprices 29.11.19