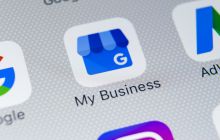 Any estate agent competing in today's market needs to have an online presence. Many property searches begin with an online search of properties in the client's area of interest. Here we'll discuss the ins and outs of setting up a Google My Business profile with a brief look at how you can optimise your business for local search.

What is Google My Business?

Google My Business is a free resource that allows you to connect with clients online, enabling them to find you in a Google search results page and Google maps. It will not replace your website, it will complement it.

There are many reasons as to why you would want a Google My Business profile for your estate agency business. Not only will it contribute to your online presence, but it will allow you to have an element of control over the information about you online. There are easy-to-understand insights into who is visiting using your profile. Examples include the way in which people find your listing, how many of them have requested driving directions to your business and how many times people have seen your business information. The profile is a good first step to local SEO for your property business.

Google My Business profiles cannot be used for completely online businesses; you need to have a physical presence and to provide the option of face-to-face communication with your clients in order to be eligible for a profile. This makes it highly suitable for estate agencies.

How to set up an optimised Google My Business profile

Before you start, carry out a Google search to see if there is already a profile for your business. Then, you can either claim the profile if there is one, or create a new profile. You will need a Gmail or Google account to be associated with the page.

Once you have logged in, you will need to enter the name of your business. Ensure this is consistent with the way in which your business is named elsewhere online. In your profile, you should include as much information as you can; images, videos, contact details, opening times and so forth.

List your business address. You can list your business as a location that clients will visit, as a service location that clients won't visit or in both capacities. Select both the physical location checkbox and the 'I deliver goods and services to my customers' checkbox to add the area in which you sell houses. Don't tick the 'Hide my address' checkbox unless you are an online-only estate agent. The service area is particularly useful for estate agents; you can set the area you serve by city or postcodes. You can have up to 20 locations within your service area.

Choose your business category; in the UK there are over 3900 categories to choose from. Category suggestions will appear as you type so you don't have to search through them all.

In your profile, you can add the range of add-on services you offer, such as mortgage advice or legal referrals, for example, in addition to property sales and advice.

When you're writing your business description, you will need to include keywords without keyword stuffing. You should write naturally so that your clients can read your business description easily and are attracted by it. Your description should be optimised so that it appears in search results, but you really do need to sound friendly and human to attract clients.

You can add a profile photo, a cover photo and other relevant images to your business profile. You can also add your business logo to your profile; this is advisable to ensure consistent branding. Business profiles with photos see 35% more click-throughs to their website than those without.

Upload high-quality photos to your account. If you have an office then you can upload a photo of it so that clients can easily recognise it when they come to visit. Save image files with an optimised name, so instead of 67799.png, you should name it ABC_estate_agency_Ealing.png for example. Google provides guidelines as to the size, resolution and file type for photos.

Ensure that you check your profile information regularly; your visitors can suggest changes. If you have all the correct information in your profile in the first place, then users are less likely to suggest changes to it.

Your profile has the option for clients to leave reviews and for you to respond to them. You can encourage clients to leave reviews, provided that you follow Google's rules. You cannot remove negative reviews and you cannot turn off reviews. Positive reviews can help with local search optimisation.

The final step in setting up your profile is to verify your business with Google. There are several ways to do this. The principal way to do this is to request a postcard which is sent to your business address with a code that you then enter online to verify your business and its location.

Why local SEO?

Local SEO means that your website or online profile is optimised for clients who are searching for businesses local to them. To be successful in local SEO, you need to optimise your Google My Business account, optimise your website and ensure that your correct details are on online directories.

Local optimisation doesn't change much from general SEO efforts. Links should be locally sourced, for example from local solicitors, mortgage advisors or removals firms. Similarly, add links to businesses that your clients are likely to use in the local area.

Keywords should contain the location names of where you are based and the locations in which you sell and let houses.

Local SEO is not a set and forget approach to online marketing; content and information will need to be checked on a regular basis. With the constant evolution of Google's algorithms, you need to keep up to date with the changes, so that you remain optimised for local search.
Nethouseprices Newsletter
You can sign up to our newsletter and join Nethouseprice's community of over 190,000 members who get regular property tips, relevant offers and news, click here http://nethouseprices.com/auth/user-register
Source: Nethouseprices 05.12.19