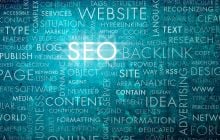 Over the last decade, the property industry has experienced a variety of interesting ups and downs. At a time when competition is fierce and standing out from the crowd is difficult, you need to utilise a strong set of digital marketing tools to effectively promote your brand and secure valuable leads.

Although estate agents still clearly play a pivotal role in all aspects of the property purchasing and selling process, increasing numbers of buyers are willing to put in more of the work themselves online before making direct contact with the experts. This means that if you don't have a strong online presence, you are almost certainly missing out on forging valuable connections that will ultimately benefit your bottom line.

Treat your website as a digital storefront

A well-maintained website not only looks great, but it will also work hard for your business in ways that might not be visible but will certainly be felt. In addition to integrating beautiful imagery and informative copy into your web pages, ensuring that each aspect of your site is fully optimised will play a key role in your overall visibility online.

As no detail is too small, it is important to think about everything from headers to title tags and meta descriptions. All copy should be keyword-rich to ensure maximum search visibility and clear calls to action (CTAs) should be present throughout to ensure that you are in a position to fully capitalise on every potential conversion when visitors land on your site.

Incorporating some location-specific keywords into your on-site copy will ensure that your content is visible to potential clients in your target areas.

Ensure your website is mobile-friendly

Consumers are more technically literate than ever before and optimising your website for mobile is essential for a variety of reasons. As the numbers of mobile devices increase, you need to know that your most important digital asset is accessible and functional for everyone who wants to visit and engage with your website.

Additionally, search engines recognise how valuable mobile traffic is, which is why mobile-friendliness now plays a key role in the ranking process. Failing to provide your visitors with a seamless and positive experience will impact your ranking position and will likely mean that you are outranked by competitor brands who have invested heavily in the responsiveness of their website.

If you promise your audience something and fail to deliver, they will quickly take their property queries elsewhere and this will tell search engines that you aren't delivering the high-quality experience they want to promote to their users.

Share unique and informative content

The property selling and purchasing process can be complex and as a professional within the field, you have a unique opportunity to provide an insider's view and work to demystify the process for your potential clients.

In addition to showcasing who you are and what you do, creating content that your target audience will find interesting is an excellent way to boost your traffic and encourage engagement. You could provide a range of detailed advice regarding the purchasing process, discuss the architecture of your target areas, or highlight some of the long-term benefits of investing in property.

Estate agents who take the time to create valuable content that their audience will appreciate will be showcasing their value, marketing their expertise, and establishing themselves as a leading figure within the marketplace.

Create and optimise high-quality video content

The online space is highly visual and as imagery plays such a key role in the property industry, investing in the creation and optimisation of high-quality video content will help you to stand out from the crowd for the right reasons.

Not only can you use video content to advertise your properties to potential buyers, but you can also use it to boost your visibility and enhance engagement across search and social media. Hosting a weekly Q&A session on Facebook or taking your audience behind the scenes for a day on Instagram are excellent ways to get people engaging with you whilst also allowing you the opportunity to showcase your expertise and build your authority.

This content can be repurposed in a variety of ways. Whether you go on to integrate it into your paid advertising, upload it to your YouTube channel, or embed it into your website, ensuring that it is fully optimised is vital. Giving your content appropriate titles, tags and descriptions will contribute to your ranking position and ensure that your agency is ranked strongly in search engine results for relevant queries.

Answer common client questions

If you know the kinds of questions and queries that your target audience is entering into search engines, you will find it easier to answer them in your on-site copy. The property industry is fast-paced and always provides a wealth of discussion opportunities, so if you know that your potential clients want answers to specific questions, this is an excellent opportunity to create keyword-rich content specifically for them.

Utilise Google My Business

As you'll see elsewhere in our series on marketing, setting up a Google My Business page is a simple process that will make it much easier for your potential audience to find you in both Google Search and Google Maps.

Ask for Testimonials

Testimonials and reviews are excellent trust signals and communicate to your audience that you are a trustworthy agent with the skills to assist them on their property journey.

When a client has had a positive experience with you they might be willing to actively recommend your services. These testimonials can be shared across your social platforms and your website, which will enhance and support your copy with valuable social proof. Additionally, reviews placed on trusted review sites can also enhance your visibility in search.

Although the occasional property will fly off the housing market as quickly as it was listed, selling hard work. Thankfully the online property marketplace offers creative estate agents like you the chance to stand out and do what you do best: sell!
Nethouseprices Newsletter
You can sign up to our newsletter and join Nethouseprice's community of over 190,000 members who get regular property tips, relevant offers and news, click here http://nethouseprices.com/auth/user-register
Source: Nethouseprices 05.12.19