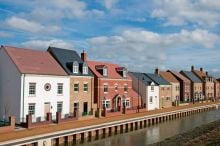 First time property investor, Dan Gollins has successfully funded an extensive refurbishment project with the help of short-term lender Auction Finance.
Auction Finance provided the Wirral-based investor with £166,500 of short-term funding to purchase a £185,000 four bedroom 1925, post-WW1 holiday home at a Wirral auction.
Mr Gollins intends to demolish the bungalow and replace it with a self-built, personalised 'kit house' which will arrive on the back of a lorry.
Typically costing around 20% less than conventional homes, kit houses have recently been hailed as 'the future of housing'. Some believe they could be the answer to the UK's housing shortage.
Mr Gollins will complete an extensive two month renovation project and sell the property following refurbishment early next year.
Commenting on the project Mr Gollins said:
"I knew I was interested in the property from the outset but the quality of the fabric of the building is so poor, it just doesn't make sense to spend money on renovation. I'm planning on using an off-the-shelf design which can be built within a matter of days.
It's an extremely interesting project and I probably would have struggled to secure funding on the property from many other lenders. The service I received from Auction Finance was excellent and the team were very quick to respond to queries.
"I'm excited to get started on the project. The house will be one of the first of its kind on the Wirral."
Chris Baguley, director of Auction Finance, added:
"We love being able to help eager property developers fulfil their ambitions. It's an extremely unique project and we're excited to see what Dan does with the place!"
Mr Gollins is currently seeking planning permission to complete the project.
Source: Propertyreporter