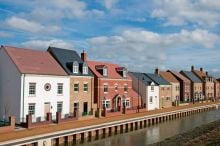 The average home improvement in the UK would add a healthy 10% to the value of a home, based on home owner's estimates, new research shows.
This works out at just under £30,000 whilst the average return on investment was estimated to be 80%, based on the total amount spent by home owners, according a new home improvement index from peer to peer lending firm Zopa.
The new research, which asks home owners who have recently taken out a home improvement loan across the UK how much value their renovation added to their property, shows that the top improvement is a conservatory costing an average of £5,300 and giving a 108% return on investment.
Next is garden improvements costing an average of £4,550 giving an 88% return followed by exterior work costing an average of £6,000 with a return on investment of 75%.
An extension is much more costly, averaging £19,750 but only offering a 71% return on investment while a new roof costs £4,150 with just 63% return and a loft costing an average of £24,600 but comes with a return of just 50%.
Kitchen and bathrooms are often the rooms home owners want to change the most but they offer the least in terms of returns. A bathroom renovation costing an average of £4,900 is bottom with a return of just 48%, closely followed by a kitchen costing an average of £9,600 with a return of 49%.
Some 82% of home owners said that despite improving their homes, they were not planning on selling soon. The firm says this suggests that the current housing market where price growth is slowing could be putting home owners off moving, and instead adapting their current homes to their situations.
'With the latest housing market reports showing the market to be slowing down, home owners could add significant value by looking at ways to improve their current homes, rather than move,' said Zopa chief executive officer Giles Andrews.
'With record low rates on borrowing, home improvements can be a cost effective way to add value to your property for the long term,' he added.
Source: Propertywire