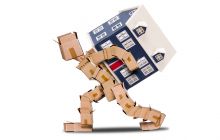 It is widely recognised that moving house is one of the most stressful times in a person's life - up there with getting divorced and facing bereavement.

So one of the things you must do when moving home is make sure you employ a reputable, professional and efficient removals firm to help ensure the process goes as smoothly as possible. But how do you know which company to pick?

Do it Yourself

You can, of course, always become your own removals man or woman. You could hire a van or borrow one from a friend, buy some boxes, get some old newspapers, pack up your own belongings and do the job yourself, maybe enlisting the helping hands of a few willing friends and family to make the task a little easier.

Yes - you could. And if you live in a small flat on your own, and haven't got much furniture to shift, this probably makes sense.

However, if you have a family, live in a three-bedroom house and have more possessions than you care to admit to, this is obviously not the practical option. In addition to saving a whole lot of time and effort, a professional removals company will also know the best way to pack your precious possessions so they don't get damaged.

Ask Around

One of the best ways of finding any service, of course, is through word of mouth. Ask your friends, family and neighbours if they have any recommendations, or if someone has recently moved into your street, ask them who they employed and whether they would use them again.

For a more formal recommendation, try looking on the Which? Trusted Traders website, which lists - would you believe it - trusted traders in different categories across the country. Every firm enrolled on the scheme has passed a number of rigorous assessment processes, which means they can be relied on to get the job done professionally.

Call the Professionals

Whichever firm you pick, make sure they are a member of the British Association of Removers (BAR). This will reassure you that they have the necessary insurance, expertise and training to handle your move.

It's a good idea to have two or three firms in mind, and then arrange for them to provide you with quotations for their services. If possible, get them to visit your home first to give a better estimate - this is especially important if there is likely to be a problem, for example if you have several flights of stairs to negotiate or many valuables to pack.

Whichever firm you go for in the end, make sure they have the correct insurance to deal with any catastrophes. Happy moving!