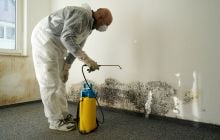 Rising damp: two words that strike fear into the heart of any householder. Dampness can lead to expensive remedial work, cause health problems and have a detrimental effect on house prices, yet despite these fears, genuine rising damp is actually a rare occurrence. Most instances of dampness actually have other causes.

Causes of Damp

If you have symptoms of damp - mould, peeling wallpaper, rotting wood or a musty smell - it's important to identify the cause before deciding what to do about it. In many cases damp will be caused by penetration due to leaking gutters, poor quality brickwork or badly installed cavity insulation allowing moisture to find its way inside the property. Another major cause is condensation, mainly caused by inadequate ventilation of the property.

Any kind of damp needs attention, especially if you're selling. Damp can affect property prices, but it's vital to treat the right thing.

Identifying Symptoms

So how do you tell what type of damp you have? There are some tell-tale signs. Damp patches on walls or ceilings, wet patches that seem worse after heavy rains, dampness around chimney breasts and damp on upper floors are all likely signs of penetrating damp.

Moisture on windows, mould around windows and doors and rotting window frames are all signs of condensation. This is typically found in kitchens and bathrooms, as well as rooms that are used to dry laundry indoors.

Signs of rising damp include a tide mark on walls - usually no more than a metre above floor level - rotting or crumbling skirting boards, rotting floorboards and salt deposits on internal walls.

Treatments

Rising damp generally occurs in older house which were originally built without a damp proof course, or on rare occasions where an existing damp proof course has failed. Curing rising damp therefore involves inserting a new damp proof course.

This can be done physically by removing a mortar course and inserting a plastic membrane. However, this method is labour intensive, so in most cases a new damp proof course will be added by chemical injection. This still causes some disruption as external render and internal plaster needs to be removed on the lower part of the walls, but it's generally a cheaper and easier option.

If you think your property may be suffering from rising damp you need to get it diagnosed by a professional independent surveyor. Don't rely on surveyors from damp proofing companies as they're motivated to sell you a product.