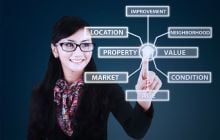 If your estate agent is suggesting that you should lower your house price, should you take their advice, or hold out? Does that mean they overpriced your house in the first place?

Gauging the market

A good agent will consider several factors before approaching their sellers about reducing their asking price. Estate agents work out the house valuation using figures from recently sold house prices, and will come up with the best price they believe the property can manage in the market. The same figures are used by surveyors to qualify mortgage valuations. Take a look around the numerous online house market portals - if you see a house similar to yours selling at a lower price, then it means yours may need to drop a little to compete. Before you agree to a price drop, however, there are a few factors that are worth checking.

How well is your property being marketed?

These days, technology allows estate agents to work wonders with their online advertising space. Gone are the days of the mailed A4 sheets of paper with a single picture and a list of specifications for each room. Most buyers wouldn't expect to see anything less than a good quality picture of each room and a floor plan of each level. Many properties are marketed complete with local information, from maps to amenities, even crime rates in the area. Is your property appearing in local newspapers or in the shop window? If it isn't getting the best selling chance, then perhaps that should be put right first.

How long has your property been on the market?

Generally, you'll see a spike in interest during the first two weeks of your property coming onto the market, and then it will start to tail off. After a month or so, it's only recently registered buyers who'll be viewing. It's difficult to establish how many viewers you need to test whether you've got your house valuation spot on, as this varies from area to area, but generally after a month, it may be time to consider lowering your asking price.

Is it worth holding out?

House markets are seasonal - they are livelier in the autumn and the spring. It may be worth holding out during those periods, but by the same token, holding out can have a negative impact. Buyers may get nervous about a property that's been on the market for too long. Buyers will sometimes wait in the hope that a seller will drop their price before showing interest.

Knowing when to drop your price and by how much is not easy, but if you have a good agent, it's wise to give their advice some serious consideration.
Our instant valuation tool can help to provide a quick valuation before contacting other agents for a second opinion.