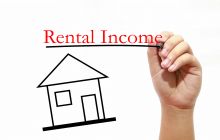 Almost every landlord should now be aware that if they have outstanding finance on their buy-to-let portfolio, then they be impacted by the 'Interest Relief Restriction'.
The following is an excerpt from the 13,500+ word special guide written tax specialist by Lee Sharpe (from TaxInsider.co.uk).
In the guide he looks at the various options open to residential property or "Buy-To-Let" (BTL) landlords, who will be impacted by the 'Interest Relief Restriction'.
"Interest Relief Restriction – This measure will start to restrict the tax relief that residential property investors get on their mortgage interest and related finance costs. As the expense is curtailed for tax purposes, people's rental profits – for tax purposes only – will duly rise. There will be a corresponding tax 'credit' of 20% of the interest cost, to reduce the landlord's Income Tax bill, so it should normally be self-cancelling for landlords who are Basic Rate taxpayers. But the credit will not be sufficient to fully offset the tax liabilities of those who pay tax at 40% or even 45%.
Furthermore, a key hidden danger of this new measure is that disallowing the interest charge will "make" landlords who currently pay tax at only 20% - the Basic Rate – into Higher Rate (40%) taxpayers. It seems likely that only landlords with quite modest portfolios will escape this measure unscathed but most career landlords will, in time, be paying tax on amounts significantly in excess of their 'true' economic profit.
The disallowance and corresponding 20% tax credit will be introduced in 4 equal stages, from the 2017/18 tax year through to 2020/21.
There is little doubt that the measure is discriminatory towards affected landlords, because they are the only sector denied relief for their true costs in this way; nor that it is anti-competitive because companies, and established businesses with no borrowings, will be unaffected allowing them to undercut already with borrowings, and those who need to borrow in order to enter the market. "
To download the guide for free, use the link below: