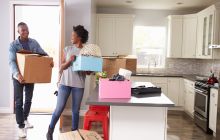 Promotional feature contributed by Experian
Around the start of this century, a bank or building society would typically lend you 3.5 x your annual salary at best. Now, however, around 10% of all lending is offered at 4.5 times salary, and in London that can go even higher.
Mortgage affordability rules introduced in April 2014 now take into account not only how much you are earning, but how much you are spending, and whether you actually have the money to make your monthly mortgage repayment.
Lenders are also keen to know whether you'll you be able to afford it should interest rates go up or if your circumstances change.
The shape of your credit report
Keeping your credit report in order is one of the key things you might want to think about, if you are hoping to get on the property ladder.
Lenders are likely to look more kindly on someone who is able to make sure their monthly repayments are made on time, and is able to keep overall debt under control.
Showing lenders that you can manage credit accounts – which could be things such as credit cards, mobile phone contracts and even some utility services – could potentially work in your favour.
5 tips to get your credit report into shape for a mortgage
1. Try to avoid making multiple credit applications, as each one is recorded on your credit report – whether successful or not – and it may look as though you're in financial difficulties.
2. Try not to miss a credit repayment, as missed or late payments stay on your credit report for at least six years and can have a negative effect on how lenders see your application. Setting up direct debits can help to make sure credit bills are paid on time.
3. Checking your credit report before you make the application can allow you to see what the lender would see, and give you chance to update any inaccuracies and correct any information that's out of date. This could be things like whether you have kept up to date with payments on other loans and credit cards, the total level of credit that you already have, and how much of that you're using.
4. Check your financial associations with other people, like a joint bank or credit card account. If you're concerned that your partner may have poor credit, it's a good idea to check your credit report to see if and how you are financially linked.
5. Register on the electoral roll, as it proves who you are and where you live.
Source: By Darren Beach at Experian, 15-Dec-2016