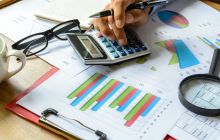 The start of a new month brings the start of a fresh round of figures on house prices. Nationwide, one of Britain's biggest mortgage lenders, hit the headlines first in March with the news of slight price growth in February.

Prices rose by 0.6 per cent

The key Nationwide figure is that house prices in the UK rose by 0.6 per cent compared with January, meaning that the average residential property across the country now costs some £205,846. Meanwhile, in yearly terms, prices were 4.5pc higher, which represents slightly stronger growth than the 4.3 per cent increase reported the previous month.

At first glance, these statistics tend to suggest that the housing market is proving more resilient than the analysts had forecast. Certainly, readers of Nethouseprices columns will recall that many eminent housing economists took a sombre view of the January figures. Despite the slight spike, though, Nationwide remains relatively downbeat in its assessment of what will happen in the coming months. The lender stresses that it doesn't envisage a dramatic uptick in prices through the rest of 2017.

Uncertainty

The uncertainty surrounding the wider UK economy seems to be the central factor underlying the subdued reaction to the Nationwide findings for February. Robert Gardner, Nationwide's Chief Economist, for instance, said that he, in common with the majority of observers, felt that business investment and the jobs market will cool during the remainder of this year. Rising inflation occasioned by the weakened sterling will also dampen consumer confidence and spending, with that consumer spending having been the main driver of economic growth in recent months.

This being said, the institution does anticipate growth in house prices in the UK of around 2 per cent, rather than any kind of sustained decline. Low mortgage lending rates and the persistent shortage of homes on the market will continue to combine, at least to some extent, to buoy prices.

Another expert subscribing to this view is Samuel Tombs, an economist with Pantheon Macroeconomics. He argued that there are indications starting to emerge that prices will shortly begin to cool. Online research has been published in the last few days, for example, suggesting that growth in asking prices for houses and flats has "weakened", and that the size of the average new mortgage is showing evidence of some shrinkage. Against this backdrop, Mr Tombs said that the February rise reported by Nationwide should probably be attributed just to volatility. Like Mr Gardener, however, he continues to believe that prices will rise by 2 per cent this year.

Shortage

Many column inches, both here at Nethouseprices and elsewhere across the property industry, have been devoted to the UK's housing crisis. The shortage of homes is consistently being identified as one of the country's most serious social problems and, as discussed above, is the prime engine of house price inflation. The long-awaited White Paper on housing containing the Government's proposals to address the problem was published last month to modified rapture. Whatever its merits, the policies set out in the document will take years to yield any real results and effect any real change. Newly issued figures in fact suggest the crisis is getting worse.

A study by the National Association of Estate Agents (NAEA), published in late February, revealed that in January 2017, on average, some 425 house hunters were registered to every UK estate agent branch. This figure is ten per cent higher than that recorded the previous month. At the same time, the number of homes for sale was just 38 per branch, which compares with the average of 41 properties available in December. Probably inevitably, NAEA said that around one in twenty houses were sold for more than their asking price. This was the highest figure since April last year, when just nine per cent of houses were eventually sold for more than their original listing price. Providing more food for thought, NAEA found that sales to first times buyers dropped off somewhat, from 32 percent of all sales in December to 30 per cent in January. While this is clearly not a huge decline, it does run counter to recent reports that first time buyers were on the increase across Britain. Mark Hayward, Chief Executive of NAEA, said that the research highlighted the intensity of the competition for housing, with an astonishing 11 prospective purchasers "chasing" every available property.

Affordable

Housing affordability is another perennial debating point in Britain, and Lloyds Bank's latest Affordable Cities Review, published in February, is a sobering read for commentators hoping that we might see some improvement. In fact, says Lloyds, home affordability in the UK's cities is at its worst level since 2008. For these purposes, home affordability is measured by the ratio between average house prices in any given city and average gross earnings in that location. We will look at the Lloyds document in greater detail in a future article, but the outstanding points are that:

1. The average city residential property in the UK now costs almost seven times average annual earnings
2. Five cities (Oxford, Greater London, Winchester, Cambridge and Chichester) recorded house prices that were more than ten times average earnings
3. The North-South divide was apparent, with the five most affordable cities being Stirling in Scotland, Londonderry in Northern Ireland, Bradford in Yorkshire, Belfast, again in Northern Ireland, and Hereford, West Midlands. House prices were less than five times average earnings in each of these cities.

Lack of supply of houses on the market and housing affordability are, of course, closely connected. When considered alongside one another, the NAEA and Lloyds reports tend to support the Nationwide view that, whatever the economic factors threatening to cool the housing market, it certainly isn't poised for anything approaching a crash. We await the Halifax, ONS and other reports for February with interest.

Visit us again soon for all your property market news and analysis, as well as for our guides on the housing matters affecting you, your family, your investments and your business.