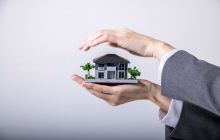 Part four: completion and moving in

1. Completion day

Completion day is the date on which you have agreed with the vendors to pick up the keys and move into your new home. This date is usually between 7 and 28 days from the contracts being exchanged and will reflect the respective completion dates of all the buyers and sellers involved in any chain. You will normally be able to pick up the keys from the seller's estate agents as soon as your solicitor has arranged transfer of the payment for the property to the seller's solicitors. For this reason, completion day will typically be a weekday.

Things do periodically go wrong on completion day. For example, there might a delay in payment from one party in a chain and this might in turn have a knock-on effect. That said, this type of problem is relatively uncommon in these days of high speed electronic money transfers and, since the delaying party is in breach of contract, he or she will be liable for any financial penalties you incur as a result of the delay.

Your mortgage lender will normally charge you a fee of £50+ for the electronic transfer of funds to your solicitor. As ever, we understand the temptation to add this to your mortgage, but do try to pay it upfront to avoid interest charges.

Remember that any Stamp Duty for which you are liable must be paid to Her Majesty's Revenue & Customs within thirty days of completion. Your solicitors will normally do this for you as part of their service. They will also submit their own final bill around this time. Do make sure you have the funds available to pay these fees.

2. Moving Day

Congratulations! You have negotiated the maze of saving for a deposit, finding an affordable home, despite inflated house prices in the UK, and dealing with the drawn-out conveyancing process. All that remains is for you to move into your lovely new property. We set out in the previous section some of things you can do well in advance of completion and moving day to make sure things go smoothly, but to recap and add several more, these include:

- Notify family, friends, your employer, children's schools, doctors, mobile phone provider and official bodies like TV licensing, DVLA and DWP (if you are in receipt of any benefit) that you are moving to a new address
- Arrange with the post office for your mail to be redirected
- Arrange utilities and insurance and registering for council tax
- Ask sellers to leave manuals for appliances in a prominent place and to let you know where energy meters and the water stopcock are located
- Clean your new house if the current owners have moved out and do any quick decoration jobs before your belongings are taken to your new premises
- Arrange, if at all possible, for pets and children to be cared for on moving day;
- Pack everything except the kitchen and bathroom essentials that you will require on moving day morning
- Pay outstanding bills to the newsagent and milkman
- Organise a removals service. This is one of our mantras, but it bears repeating. You can move your own belongs and potentially save money by doing so, but employing a reputable removals service will avoid a great deal of wear and tear on your belongings and your nerves
- Pack a box with a few essentials for your first hours in your new house, including cups, plates, kettle, coffee and tea, milk, biscuits, fruit and maybe other snacks, toilet paper, soap, toothpaste, toothbrush and towels. A bottle of wine, corkscrew and glasses might be welcome too! Books and toys to occupy the kids at the other end will also come in handy.

The day itself will be hectic, so have a filling, nutritious breakfast, as it may be some time before your next meal. The following are things you will need to do before leaving your current home:

- Make sure you have emptied the loft, basement, all cupboards, sheds and outhouses
- Pack any remaining toiletries and kitchenware that you have used on moving day
- Check that you have keys, wallet, mobile phone and any valuables close by and keep them close to your person all day
- Take final meter readings and notify the providers of these figures
- Have a last clean around for the benefit of the new occupants of your current home
- Leave new occupants the manuals for the boilers and other appliances, as well as a note of the location of energy meters and the main stopcock. They may not feel up to cooking later, so it might be a nice idea to leave the details of your favourite local takeaway restaurant in case they need sustenance after their efforts
- If you can't arrange care for pets and kids, do keep an eye on them. Moving day horror stories of dogs and cats making a last minute bid for freedom are amazingly common
- Do take the time to have a good look around your old home. It has probably been the site of many happy life events and people often feel quite emotional about leaving for pastures new
- Drive carefully. This is a stressful day and it's easy to lose concentration as you think of the many things you have to do.

At your new home

- Wander around in sheer delight - it's been a long and challenging process but you have finally made it to your beautiful new home and we can't congratulate you enough.
- Check that everything is as you had expected. For example, make sure that all the promised appliances have been left and there is no damage, and take meter readings
- Locate socket, water supply and kettle to make refreshing and very vital cuppa
- Then start unpacking!

Visit the team here at Nethouseprices again soon for more of our guides to property matters, news on the state of house prices in the UK and the general property market, and for our up-to-date commentary and analysis of the issues affecting you, your family, your investments and your business.