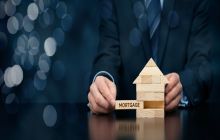 Regular readers of Nethouseprices columns will recall the debate around Nationwide's house price figures for February, with there being no real consensus about whether the 0.6 per cent rise reported in the organisation's House Price Index was a sign of things to come. Observers were left hoping that greater clarity would emerge when other bodies started releasing their statistics for last month. They were destined to be disappointed. The publication of data from Halifax and the Office for Budget Responsibility (OBR) has, if anything, further muddied the waters. In this short piece, we look at the latest figures and at what we can infer from them about house prices in the UK, as well as about housing affordability.

Halifax report: house price inflation loses momentum

The headline finding of the Halifax report for February was that the annual rate of house price growth has slowed to its most subdued pace in around three and a half years. One of Britain's mortgage lending giants, Halifax revealed that the cost of residential property across Britain only rose by some 5.1 per cent in the year to February, which is actually the lowest rate since July 2013. Put into another context, this means that house price inflation has roughly halved in the past eleven months since, as recently as March 2016, house prices in most regions of the UK were rising by ten per cent a year. According to the study, a house or flat now costs an average of £219,949.

Discussing the report, Martin Ellis, Housing Economist with Halifax, said that the key reason for the reported slowdown was that the market is reaching an affordability threshold. He explained his argument by pointing out that there has been a lengthy period of time during which the growth in the average price of housing has outpaced wage growth, making it increasingly challenging for people to afford to buy a home. Equally, he said, there are real signs that the wider economy is poised for a downturn. The labour market, for example, is starting to cool, while general inflation is rising as a result of a weakened sterling. This, in turn, is curbing disposable income. These factors are likely to combine to weigh down house price growth. Mr Ellis has consistently forecast that prices would grow by 2 per cent this year.

Another striking feature of the Halifax report was the finding that, despite the dizzying rate of house price inflation during the course of the past few years, low mortgage lending rates have ensured that people are still spending a relatively low proportion of their income on mortgage payments. Illustrating this point, the lender said that in the final quarter of last year, mortgage holders spent about thirty per cent of their income on their loan repayments. In 2007, just before the credit crunch and the global financial crisis, they were spending an average of 48 per cent of their income servicing their mortgages.

OBR

The OBR was set up in 2010 by former Chancellor of the Exchequer, George Osborne, and its basic remit is "to examine and report on the sustainability of the public finances." It was in this capacity that, on Spring Budget Day, it published its predictions for house price growth in the UK over the next couple of years. The institution said that annual house price inflation will fall from 7.6 per cent last year to 6.4 by the end of this year and to just four per cent in 2018. Like Halifax, it cited wage stagnation as the central driver of this decline. It estimates there will be zero growth in disposable income during the balance of this year.

The OBR forecast was based on official Land Registry returns. These are by far the most reliable barometer of the market since, unlike Nationwide and Halifax, they include both cash sales and those involving mortgage financing.

Tentative conclusions

In a sense, it is difficult for the layperson to afford too much importance to the figures and the resulting predictions, as too many of the post-Brexit referendum forecasts of doom and gloom have proven at best exaggerated and, at worst, downright wrong. That said, there is a pattern emerging and the latest round of house price figures certainly seems to support the view, expressed by many analysts, that broader economic factors would subdue the housing market during 2017. What there won't be, though, is a market crash. Britain's chronic shortage of housing means that prices are unlikely to plummet or go into anything like freefall.

There are, of course, several groups of people, notably first time buyers, who would welcome a bigger drop in house price inflation. As the team at Nethouseprices has discussed at length elsewhere, there are several ambitious programmes afoot to boost the supply of affordable homes available to young people and families. These will, with the best will in the world, take time to deliver the volumes of houses that are so sorely needed. Accordingly, there have been calls from social justice think tanks, charities and industry for governmental action, with a reduction in Stamp Duty being most widely touted as a helpful intervention.

It's hard to contest the view that Stamp Duty should either be totally abolished, reduced or the liability for its payment transferred from buyer to seller, especially in London and the South East. Just to highlight this point, the average first time buyer in London spent £423,000 on their home in the early months of this year. In addition to this eye-watering sum, he or she would need to find a further £11,150 for Stamp Duty. There are powerful counter-arguments. For example, many commentators think that passing the burden of Stamp Duty to sellers would just result in their hiking up the asking price.

Perhaps one of the most persuasive arguments is that all first time buyers should be exempt from Stamp Duty, whatever the value of the property they are buying. This would level the regional playing field for first time buyers and make housing more affordable, without bearing down on actual house prices.

Visit us again soon for more news, commentary and analysis of the property market issues affecting you, your family and your business.