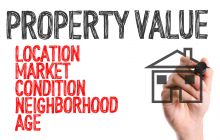 As regular readers of these Nethouseprices columns will recall, house prices in the UK have proven to remarkably robust since the EU referendum, defying the predictions of doom and gloom surrounding that vote. This resilience has continued so far in 2017, with most agencies reporting modest growth in the cost of residential property, especially in the booming North West. Confidence will be shaken somewhat, however, by the latest Nationwide house price survey, which shows that inflation fell by 0.3 per cent and that the average house in the UK costs some £207,308.

Nationwide

Along with Halifax, the Royal Institution of Chartered Surveyors (RICS) and the Office for National Statistics (ONS), Nationwide, one of Britain's biggest mortgage lenders, publishes some of the most widely anticipated housing figures in the property sector. Analysts polled by Reuters had been forecasting growth of 0.4 per cent in March, so the 0.3 per cent drop is a genuine surprise to many. Just to recap, growth stood at 0.6 per cent in February. This is actually the first decline reported by Nationwide in two years. As ever, we need to emphasise that the statistics emerging from other bodies might well be markedly different from those issued by Nationwide so, until we have all the data, this is essentially just a snapshot of March's housing market.

While the figures are sobering, the lender pointed out that the performance gap in price growth between the British regions is narrowing. The margin between the best performing and worst performing regions now stands at 6.8 per cent, which is the narrowest gap since 1978. Certainly no one is suggesting that this latest set of figures presages a dramatic crash in the residential property sector. For instance, Howard Archer, of IHS Markit, responded to the Nationwide report by saying that a softening wider economy, inflation and low wage growth are likely to subdue the market during the balance of this year. However, the housing shortage will act as a parachute, preventing a serious decline. His organisation, in fact, expects growth of around 2.5 per cent in 2017.

Good or bad news?

As we frequently comment in these pages, whether one views a fall in the cost of houses and flats as a good or a bad thing depends largely on your home ownership status. Existing property owners naturally want to see the value of their home maintained and will react to a slowdown with dismay. Young people trying, and failing, to buy their first home will no doubt welcome signs that housing is becoming more affordable, since lower prices will enhance their chances of getting that crucial first step onto the housing ladder.

This is a view to which Brian Murphy of the Mortgage Advice Council subscribes. Reacting to the Nationwide study, he said that lower prices combined with historically low mortgage interest rates would help more people with their house purchase aspirations. Given, he added, that home ownership​ is currently at its lowest level since the mid-1980s, and just 38 per cent of those in the 25 - 34 age bracket own a house, deceleration in price growth was arguably to be welcomed, because it would allow greater numbers of people to buy their first home.


Help-to-Buy

There is actually a great deal of evidence that first time buyers are starting to find their feet on the property ladder. For instance, in 2016, just shy of 340,000 of them bought their own home - the highest level in a decade. This has principally been attributed to the government measures designed to help them, such as the Help-to-Buy scheme and the new taxes on investment properties. The truth of this contention has, however, been thrown into serious doubt by recent reports that the Help-to-Buy scheme is essentially only helping high income buyers and that it has been largely ineffective at assisting those on low or middle incomes.

Official government research published in late March revealed that over half of those who made use of the Help to Buy scheme to buy a home said they could have afforded to purchase a home even without access to the scheme. Some 4000 householders earning over £100,000 annually, subscribe to the Help-to-Buy Equity Loan Scheme. These findings have generated a great deal of comment across the media, with the broad consensus being that this was not the intention of the scheme and that it needs careful modification in order to help those who genuinely need assistance. The policies, as well-intentioned as they demonstrably are, have been beset by controversy since implementation. Readers will recall the furious media reaction to news that the Help-to-Buy ISA could not actually be used for an initial house deposit.

ONS in the spotlight

The ONS index is generally considered to be the gold standard of house price indices. Using data from many sources, including land registry sold prices, the ONS report is regarded as being the most comprehensive, impartial and reliable guide to the state of the market at any given time. In recent days, though, housing analysts have queried the dependability of the ONS figures, with Lucian Cook, head of research at Savills, saying that the index is "blighted by issues around accuracy and reliability."

The criticism was prompted by a number of questionable statistics. By way of example,
the ONS said that transactions had fallen by 21.2 per cent in the year to November 2016. Her Majesty's Revenue and Customs, though, found that the figure was actually 7.1 per cent. Similarly, the organisation recently amended its index for December 2016, saying that growth was 5.7 per cent rather than the 7.2 per cent reported originally. The ONS changed its methodology for preparing its index last year in an effort to improve its accuracy, so these reports are disappointing. A spokesperson​ said, though, that while there are inherent difficulties in changing policy, the body was reviewing its procedures to ensure that all transactions are recorded. The industry will be watching developments closely.

Visit the team here at Nethouseprices for updates on these stories and for all the latest property market news, as well as for commentary and analysis of the issues affecting you, your family and your business.