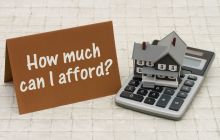 As regular readers of Nethouseprices columns will know, one of the most heated and long-running debates in British public life is the lack of affordable homes. Statistics show that there are now as few homeowners as there were in the early 1980s, and that the average age of the first time buyer is rising and mortgages being taken out are much lengthier. After decades in which successive governments have kicked the housing problem into the long grass, the current administration has set out numerous measures to help people buy their own home. There are also ambitious plans to build hundreds of thousands of homes each year, by the end of this Parliament in 2020. Increasing the supply of houses should calm house prices in the UK. None of this will happen overnight, though, and a persistent question is: where can I afford to buy a house right now? The North-South divide is, of course, a defining feature of the British property market, but what are the actual figures? In this article, we look at housing affordability across the country. In descending order, this is the state of the nation, according to LoveMoney's recent analysis of Office for National Statistics figures:

1. Northern Ireland

- Average price of home: £124,000
- Average annual salary: £25,750

2. North East of England

- Average price of home: £125,000
- Average annual salary: £25,688

3. Scotland

- Average price of home: £143,000
- Average annual salary: £27,820

4. North West of England

- Average price of home: £146,000
- Average annual salary: £ 26,166

5. Yorkshire and Humber

- Average price of home: £151,000
- Average annual salary: £ 25,911

6. West Midlands

- Average price of home: £181,000
- Average annual salary: £26,520

7. East Midlands

- Average price of home: £175,000
- Average annual salary: £25,126

8. South West of England

- Average price of home: £241,000
- Average annual salary: £26,260

9. East of England

- Average price of home: £277,000
- Average annual salary: £27,497

10. South East of England

- Average price of home: £313,000
- Average annual salary: £29,432

11. London

- Average price of home: £488,000
- Average annual salary: £34,811


Observations and reaction

The first point is that the North-South divide seems to be as wide as ever, with the gap between London and, say, the North East of England being vast. There is, however, an important qualification to be made - that the latest figures actually suggest that the divide is narrowing. In a previous column, for instance, we discussed the fact that the disparity in house price growth across the regions was as narrow as it had been in almost forty years. Housing experts largely attributed this to southern regions having reached an affordability threshold. As Nethouseprices has highlighted elsewhere, the North West of England is currently experiencing a marked boom in house price growth, probably occasioned by the region's strategic position at the heart of the "Northern Powerhouse" project, devised by former Chancellor, George Osborne.

Several observers expressed alarm at the figures which set out in black and white the scale of the challenge facing families on average earnings who aspire to home ownership. Graeme Brown, interim chief executive of housing charity, Shelter, said that the study made "crystal clear" that buying a house or flat was an extremely distant prospect for millions of families. He argued that only a significant intervention on the part of central government could resolve the crisis. Housing minister, Garvin Barwell, though, pointed to the various Help-to-Buy schemes that have been introduced and said that his Government was doing "all it could" to help people take that first step on the housing ladder.

Another aspect of the LoveMoney report is that it reveals the difficulty people may experience in moving outside their own region. Just to illustrate the point, a family from Sunderland whose annual income is around £25,500 and whose current home is valued at about £125,000 would clearly struggle to move to London, where the average cost of a residential property is close to £488,000, even allowing for a hike in salary as part of the relocation.

House prices in the UK aren't, however, the only obstacles to home ownership. Low wage growth and rising inflation are minimising disposable income and limiting personal savings. Emphasising this point, the Bank of England has sounded a note of caution about household savings, saying that they are at a record low. Given that the economy is being sustained by consumer spending, the worry is that people are surviving on credit, the excessive accumulation of which is another bar to buying a house.

Help and advice

If you are struggling to buy a home, do explore the help being offered by the Government. While these schemes have been criticised and probably need to be adjusted in order to target the right sections of society, they have helped many new homeowners and they certainly warrant your attention. In the first instance, we recommend that you visit: https://www.helptobuy.gov.uk.

Another source of help is the "Bank of Mum and Dad", which is currently helping many young people to buy their first home. This resource, of course, isn't available to everyone. However, several of Britain's mortgage lenders have launched house financing products which allow parents to be guarantors or to use equity in their homes to help their offspring. See, for example, Nationwide's new family support product: http://www.nationwide.co.uk/about/media-centre-and-specialist-areas/media-centre/press-releases/archive/2017/3/22-new-mortgage-product.

Finally, do check that you are obtaining the very best rates on your savings. While returns on deposit accounts are frankly underwhelming right now, most banks offer alternative products which attract higher rates of interest. While you are building a deposit, it's crucial that you keep a weather eye on your credit rating, since this will determine whether you are offered a mortgage and the borrowing rates you will be asked to pay. In other words, it can make the difference between being able to afford to buy a home or having to carry on renting.
Whether selling or renting out your property, you can check different areas for an instant online valuation here
http://nethouseprices.com/information/instant-house-valuation