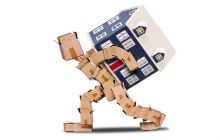 When minister for Local Government and Communities, Sajid Javid, recently announced the publication of his White Paper on housing, he said that solving the unprecedented severity of Britain's housing crisis would require radical measures and bold new thinking. One of his more intriguing proposals was the encouragement of a new generation of modular homes up and down the country. Following the Second World War, of course, there was a massive house building programme and, of necessity, some of the new homes built were "prefabs." While they are associated in our common imagination with neglected estates and decrepit houses, many of the early modular homes have lasted far longer and remained in much better condition than anyone anticipated back in the 1940s. It makes sense, then, that they should be considered as a potential solution to the current housing shortage affecting the UK. In this Nethouseprices feature, we look at the benefits and drawbacks of modular homes, and assess the latest developments towards their widespread construction in the UK.

Advantages

The most obvious benefits of Michael homes are as follows:

Cost: These properties are comparatively inexpensive to construct, a feature which can be passed on to buyers. This is no small consideration, given the present state of house prices in the UK!
Convenience: They can be fabricated off site, meaning less local disruption and interference with the neighbourhood environment.
Flexibility: Modern "prefabs" can be manufactured from a wide range of materials and to various specifications, allowing them to fit sympathetically into their surroundings.
Speed: They can be built and sold as homes with almost astonishing speed, delivering affordable housing to families far more quickly than is possible with traditional builds.
Compliance: The houses can be designed to be fully compliant with environmental and other regulations.
Durability: They are long lasting and durable. The postwar models have largely remained intact and the new incarnation of "prefabs" are built to the highest standards using the latest design technology and materials.

Disadvantages

Public perception: Irrespective of the standards to which the new modular homes can be constructed, there persists a perception that this is essentially second rate housing. Persuading house hunters that these are superb family dwellings might be problematic.
Financing: Some mortgage lenders will almost certainly be reluctant to offer financing secured on this type of property.
Cost of land: In certain parts of Britain - London, the South East and South West of England, for instance - land is extremely costly, meaning that the housing provided won't necessarily be dramatically cheaper than other new homes.
Limited customisation: As highlighted above, there is a great deal of flexibility in the construction of the latest incarnation of modular homes, but the mass manufacturing process probably restricts developers to a narrow range of designs. Bespoke designs are probably limited to smaller projects.

The return of the prefab?

In a previous column, Nethouseprices discussed a visit Sajid Javid made to Germany and the Netherlands to explore the uptake of modular homes in these countries. Favourably impressed with what he saw, Mr Javid said that he hoped that we would see a similar number of these houses being erected in Britain. The early signs are that his words were heeded.

Late last year, we reported that Legal & General, the insurance behemoth, was planning a factory near Leeds, with a capacity to build some 3000 modular homes per year. Across the Pennines in Liverpool and Manchester, Your Housing Group signed a deal with Chinese consortium China National Building Materials for a plant which would provide 25,000 new affordable houses.

In March, the East London based Silvertown Partnership was formed between developers First Base and engineering company Aecom. The deal, which is subject to planning permission, is worth around £3.5 billion and would produce 500 homes each year.

As well as these high profile enterprises, there have been hundreds of smaller projects completed across the country. See, for example, this development in North Shields, Tyne & Wear, where modular homes are being built to transform a disused dockyard into a modern housing estate: http://www.chroniclelive.co.uk/news/north-east-news/see-first-new-factory-built-12263526.

Remediated land

There is a significant body of opinion that says, if we are serious about solving the housing crisis, we will need to rethink the green belt and repurpose it for the construction of large numbers of new homes. This is, naturally enough, a contentious proposal and one that the Government is consequently reluctant to adopt. It is, however, eager that ex-industrial land or brownfield sites should be remediated and used for housing.

One of the more interesting regeneration programmes is taking place in Enfield, North London. Meridian Water is a planned 200 acre community in the Edmonton area of the borough. As well as providing thousands of homes, a proportion of which are guaranteed to be affordable, and an estimated 16,000 new jobs, Meridian Water will be host from 2019 to a brand new transport hub, funded by Network Rail, linking the new suburb with central London and other key locations. Situated close to the delightful Lee Valley Regional Park and transected by Pymmes Brook, it will be an attractive, inclusive neighbourhood in keeping with its surroundings. Enabling work has already begun on the first phase of 725 houses.

London has, of course, some of the highest house prices in the UK, brought about in no small part by high demand for comparatively few properties. To this extent, Meridian Water will be welcomed by Londoners, especially those who will be able to benefit from the affordable homes being planned. It's likely that the Capital will see much more of this kind of regeneration, because Mayor of London, Sadiq Khan, has promised that housing will be one of the core planks of his administration, with repurposed land being central to this ambition.

Visit the team here at Nethouseprices for all the latest housing market news, as well as for analysis and commentary on the property sector issues affecting you, your family and your business.