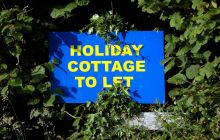 As the summer approaches and our minds turn to planning the annual vacation, many of us may think of buying a property in our favourite location and letting it out to other holidaymakers. While this can be a profitable and enjoyable investment, certainly when compared to standard savings accounts, it isn't right for everyone. In this short Nethouseprices feature, we look at the benefits and drawbacks of this type of investment.

Advantages

1. Taxes

Holiday lets are subject to a different treatment from Her Majesty's Revenue & Customs (HMRC) than standard rental properties, being essentially viewed as a trading venture, rather than as an investment. If you buy a home and let it out to vacationers, you may avoid some of the new tax arrangements for investment properties. This is the key explanation for the recent uptick in sales of holiday homes. We do, however, recommend that readers seek professional advice from an accountant or solicitor, to ascertain the precise tax liabilities relating to purchases of additional homes.

2. High yields

Holiday lets can be hugely lucrative, as people are willing to pay premium rentals on well-appointed apartments, houses and cottages in such areas as the Lake District, Highlands of Scotland and coastal resorts. At peak times, the yields on a holiday rental can be up to four times greater than returns on traditional lets. There are, of course, seasonal down times, during which you might struggle for bookings. Veterans recommend that you are flexible at these times and allow very short stays, perhaps weekend or overnight bookings. You can also use quiet spells for redecoration and maintenance, minimising disruption during the busier spring and summer months, when you might well have back-to-back bookings.

3. Permanent holiday home

You, your family and friends can avail yourself of the property at a time of your choosing, meaning regular vacations in your ideal spot, with minimal planning and expense, which is a huge boon when price inflation is rising so dramatically. You can also leave much of your holiday paraphernalia, like surf boards, at the property for the use of tenants, saving space in your main residence and cutting down on packing!

4. Potential retirement home

Your customers will effectively pay your mortgage, and it's conceivable that, after several years, you will own the freehold to the property. You will then be in the enviable position of having a choice to make. Perhaps you will decide to continue renting it out for extra income, or maybe you would prefer to sell it, hopefully at a healthy profit. How about using it as a family dwelling, perhaps as a retirement home for you and your partner?

5. Simplicity

There are various inexpensive online tools for marketing the property, meaning that you don't have to do much in the way of legwork to ensure regular bookings. Similarly, while you will want to take reasonable precautions to make sure that prospective tenants are trustworthy and responsible, the fact that you will be paid the rental upfront means that you don't have to perform all the credit agency searches and reference checking that you would be compelled to do when looking for occupants of a longer term traditional let.

Disadvantages

1. Property prices

The cost of residential property in many popular holiday destinations is often significantly higher than average house prices in the UK. For example, if you want to buy a house or flat in Grasmere, one of the picturesque jewels in the crown of the lovely Lake District, you will need to find an average of £691,438. To put this is some sort of context, the average cost of a home in this country is, according to the latest official figures, £217,503.

2. Financing

If you need bank financing to buy the holiday property, you will be required to meet increasingly tough affordability criteria before a lender will approve a mortgage. Many holiday spots also have environmental issues which might deter banks and building societies from lending you money. Using the Lake District as an example once more, readers will recall last year's flooding in the region. This could be an important factor both in whether you are granted a mortgage and the rates of interest you will pay. Certainly, you will required as a condition of the mortgage to take out the appropriate level of insurance and, as indicated below, this is usually rather expensive.

3. Insurance

Standard insurance will not provide adequate cover for a holiday let. You will need to take out a specialist insurance product to cover public liability, loss of rent and accidental damage. If the property is in an area of environmental risk, for example in a location that is prone to flooding, you might find that the cost of premiums is inflated. Again, though, there are lots of insurers vying for your custom, so it's important to do your homework and make sure you are getting the most competitive deal.

4. Down time

There will be times, during the depths of winter, for example, when you will not be fully booked. As mentioned above, there are ways to offset this problem and the peak time yields might well compensate for quieter periods. However, you should be mindful that bookings aren't guaranteed. As with any investment, the trajectory won't always be directly upwards.

5. Frequent turnaround

The frequent turnaround of guests means that you or your agent will need to put the property in order far more often than if you were renting out a standard home. If you do this yourself, it can be time-consuming, and if you engage the services of an agent to undertake this type of work, the cost will need to be taken out of your profits.

Visit the team here at Nethouseprices for all the latest news on house prices in the UK and the wider property market, as well as for up-to-date analysis and commentary on the housing issues affecting you, your family and your business.