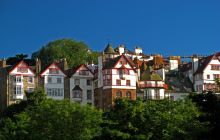 Regular readers will be all too aware that there is currently a great deal of uncertainty around house prices in the UK. The media, for example, made loud noises about a London School of Economics academic study which suggested that the country was on the very precipice of a housing crash and that residential property could potentially lose some 40 per cent of its value. Certainly, the latest institutional house price indices have pointed to, at best, sluggish growth, and the private rental sector has been similarly subdued. This has raised questions about whether property remains a wise investment. The key point here is that Scotland has recently been outperforming its counterparts in the rest of Britain. You will no doubt recall a couple of features in these Nethouseprices pages looking at the comparative health of the Scottish housing market. This being the case, we set out the classes of property investment and their respective merits and ask whether they still represent a great option for Scots.

Buy-to-let

Buy-to-let is, perhaps obviously, where you purchase a house or apartment with the intention of letting it to tenants. The attraction of this kind of investment is clear. You retain title to a tangible asset which might well appreciate in value and which will often deliver healthy yields from rental income. To this extent, it is essentially a medium to long term investment, rather than a short term project that will deliver quick returns. These characteristics are, of course, true of the entire UK private rental sector. Scotland has some important additional advantages:

- there are some strict Prudential Regulation Authority rules relating to buy-to-let mortgages, meaning that potential landlords must meet various affordability criteria. These requirements are applicable across the whole of Britain and they can represent a significant obstacle to obtaining house financing. In Scotland, however, house prices are typically lower than in parts of England, such as London and the South East, for instance, so demonstrating that you can afford your mortgage repayments is less problematic.

- the lower cost of residential property coupled with the popularity of certain towns and cities for tenants means that rental yields are higher than in many other regions of Britain. This is especially true of areas with significant student populations. To highlight this point, in 2016, the cost of an average house in Edinburgh was £197,000, while rental income was £1100 per property per calendar month. This represents an extremely healthy yield of 6.7 per cent. To put this in some sort of context, the average rental yield in London at that time was just 3.5 per cent.

There are downsides to buy-to-let, though, and they warrant serious consideration before you commit to this class of investment:

1) legal obligations

There is a raft of laws regulating the landlord and tenant relationship. Compliance with these rules is onerous, ongoing and expensive. At the same time, there are major legal consequences for those who fail to meet their legal obligations. The regulatory burden in Scottish landlords was traditionally weightier than in England and Wales, but these two countries are slowly catching up in terms of protections for tenants. You need to weigh the effort and cost of this necessity against the headline advantages of buy-to-let.

2) maintenance

As well as the initial outlay involved in refurbishing and decorating the property, you will need to spend time and money on refreshing the decor between tenants and on essential maintenance. This is partly for the comfort and safety of your tenants and partly to protect your investment. Letting the property fall into disrepair won't enhance its market value when you eventually choose to sell it, and tenants won't be inclined to pay premium rents for it. You can engage the services of agencies to undertake this work on your behalf, but their fees will naturally affect your income.

3) downtimes

When tenants vacate your property, you will need to market it and you might well face several weeks where it stands empty and is bringing in no income. This is no small consideration, especially if you need to make mortgage repayments.

4) finding suitable tenants

Since you are entrusting them with a valuable asset, you will need to vet prospective tenants carefully. This entails checking their personal references and carrying out credit searches to help you evaluate their financial background. Once again, you can employ agents to carry out these exercises for you, but you need to factor the cost of delegating this work into your income calculations.

Some classes of tenant are notoriously difficult to assess. Undergraduates, by way of example, seldom have an extensive credit history for you to examine and they won't necessarily be able to name too many reliable personal referees. There is, then, an inherent risk in letting out your property to students.

Equally, even with the most careful scrutiny, some tenants will let you down, either by damaging your property or failing to pay their rent.

There are ways of minimising these issues. There are various insurance products on the market, which are specially designed to offer landlords protection in the event, say, that they lose out on rent or need to provide tenants with alternative accommodation. As helpful as these policies unquestionably are, they are expensive and you need to make sure that you comply with the contractual conditions set out by the insurer. Likewise, if you choose to operate in the student or first jobber rental market, you can insist upon rent being guaranteed by parents. This is clearly a useful strategy, but it does involve paperwork and administration.

5. tax

It's vital that you talk to an accountant or financial adviser about the tax liabilities attached to your buy-to-let income. The régime has changed in recent years and you might find yourself with a markedly higher bill than expected from Her Majesty's Revenue and Customs. For an overview of this complex subject, see: https://rentingscotland.org/articles/landlords-and-tax.

We hope you have found this guide interesting and informative. In the next instalment, we will look at other types of property investment in Scotland. Visit us again soon for this and for the latest news on house prices in the UK and Scotland, as well as the private rental sector and the wider property market.