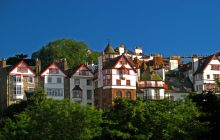 After a distinct lull in housing market news during the summer, there has been something of a raft of announcements in recent days. Firstly, Scotland has been voted the planet's most beautiful country, a development which clearly won't harm house prices. Secondly, the Scottish government has revealed its legislative programme for the coming year, with the creation of an investment bank which will have house building as one of its key functions. Next, Scotland has slipped down the UK's prosperity table. And finally, Ruth Davidson, leader of the Scottish Conservatives, has put forward an ambitious proposal for easing the country's housing crisis, involving the construction of eight new towns. In this Nethouseprices article, we consider each of these stories and assess their likely impact.

Scotland: most beautiful country on earth

In previous columns, we have discussed the remarkable number of indices which find Scotland, or its towns and cities, to be the "best place to live" or to have "the best quality of life" in the UK. But readers of the hugely influential Rough Guide series have given Scotland the ultimate accolade: it is the most beautiful country on earth.

We naturally find it hard to disagree with this flattering designation. Scotland boasts some truly unrivalled and genuinely unspoilt landscapes and its prosperous and vibrant cities are endlessly fascinating. In truth, we are in danger of turning this piece into a list of superlatives and you are no doubt asking how this will affect your house valuation.

Well, in the short term, it probably won't turn you into one of the real estate millionaires - the 1 in 79 owners of homes worth upwards of £1 million - who have been featured in the newspapers in recent days. Commentators do, however, believe that the Rough Guide title should help to support house prices, so they are less vulnerable to erosion from economic and political factors. Similarly, as we reported some time ago, Scotland is currently attracting a great deal of property investment, both from elsewhere in the UK and from abroad. It's conceivable - probable even - that this trend will gain traction as a result of the widespread publicity surrounding the result of the survey.

See: https://www.roughguides.com/gallery/most-beautiful-country-in-the-world/ for further information about the Rough Guide "Most Beautiful Country" title.

Scottish National Investment Bank

Following several years of campaigning by think tanks, lobby groups and other interested parties, the Scottish government has revealed plans to establish a National Investment Bank. Reportedly to be developed under the direction of outgoing CEO of Tesco Bank, Benny Higgins, the bank's core remit is managing Scotland's capital investment, including infrastructure and housing. Nicola Sturgeon, Scottish First Minister, said that she felt that the time had come to adopt this fresh approach and, broadly speaking, the national media and industry agree. Homes for Scotland director, Nicola Barclay, for example said that her organisation "cautiously welcomed" this measure and the other housing policies announced by the First Minister. Elsewhere, Gail Hunter, director of RICS Scotland, generally approved this and the other housing proposals but added that, as ever, "the devil is in the detail."

Land and Buildings Development Tax and planning law were also addressed in Ms Sturgeon's speech, and we will cover these in a future Nethouseprices article.

UK Prosperity Map: Scotland slips two places

Barclays Wealth & Management has published its third annual UK Prosperity map which compares cities and regions of the UK, using such measures as average earnings, number of resident millionaires, business growth rates, house prices and Gross Domestic Product (GDP). Placed seventh last year, Scotland has slipped to ninth in the table according to the latest Barclays study. Unsurprisingly, London tops both the regional and cities list, but its rate of growth is slowing and it is finding itself being outperformed by several other areas across the country.

Regions were ranked as follows:

1. London - Final index number = 0.77
2. South East England - Final index number = 0.56
3. East of England - Final index number = 0.45
4. Northern Ireland - Final index number = 0.35
5. East Midlands - Final index number = 0.32
6. South West England - Final index number = 0.31
7. West Midlands - Final index number = 0.23
8. North West England - Final index number = 0.22
9. Scotland - Final index number = 0.22
10. Wales - Final index number = 0.20
11. Yorkshire and the Humber = 0.20
12. North East England = 0.07

Drilling down into the detail of these figures, you find that the averages are somewhat misleading. Scotland is fact placed extremely well in certain categories. Average earnings, for instance, are behind only London and the South East. Likewise, the country's overall GDP is fourth. There are, then, some major positives to be taken from the Barclays report and, as we have repeatedly stressed in these pages, while Scotland hasn't experienced the house price growth recorded in certain other regions, it has significantly outpaced others.

New towns to ease housing crisis?

Ruth Davidson, leader of the Scottish Conservatives and leader of the Opposition in the Scottish Parliament, has argued that the dimensions of the country's housing crisis are such that only radical policies will now suffice. Citing a report by the Royal Institution of Chartered Surveyors (RICS) which recommended the creation of six to eight new towns across Scotland, Ms Davidson said that it's time "to seize the moment" and consider a "brave" project of developing a fresh generation of new communities. Perhaps predictably, her comments weren't universally praised, with both the SNP and Labour expressing reservations. Many housing market analysts, welcomed the proposal, however, arguing that they advance the debate on how best to solve Scotland's housing supply problems. English Conservatives have made parallel plans and it will be intriguing to see whether they materialise - in part or fully - in both countries.

Visit us again soon for the latest news about house prices in the UK and Scotland, as well as for our commentary and analysis of wider housing policy issues. Don't forget to check out our free house valuation tool and our other services.
You can also sign up to our newsletter and join Nethouseprice's community of over 190,000 members who get regular property tips, relevant offers and news, click here http://nethouseprices.com/auth/user-register
Source: Nethouseprices 7/9/17