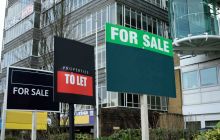 While there still isn't a universal consensus about whether the UK is poised for a housing market crash, a fairly consistent narrative has emerged around the fact that growth is softening, with virtually all the major indices suggesting that prices have stalled in recent months. Nethouseprices readers will recall that Nationwide, for example, found that the cost of the average home across the country fell by 0.1 per cent in August. Halifax has now weighed in with its own study for last month and, contrary to industry expectations of just 0.2 per cent growth, it says that house prices in the UK in fact rose by 1.1 per cent last month. In this feature, we analyse the Halifax figures for August and evaluate the expert reaction.

Halifax house price index for August: the key findings

The headline statistics contained within the report are as follows:

- house prices rose by a healthy 1.1 per cent in August, compared with 0.7 per cent in July
- prices, however, rose by just 0.1 per cent on a quarterly basis
- the average cost of a home increased by 2.6 per cent in the year to August, up from 2.1 per cent in July
- the average cost of a house is now some £222,293, an increase of £2,375 on the £219,918 recorded the previous month
- home sales exceeded 100,000 for the seventh consecutive month between June and July, with 104,760 transactions being recorded. This is 10 per cent higher than at the same time in 2016
- mortgage approvals rose by a striking 5.2 per cent to 68,700 from June to July.
- supply of houses for sale remains low for the 17th consecutive month, according to the Royal Institution of Chartered Surveyors (RICS).

Expert reaction

Russell Galley, Managing Director of Halifax Community Bank, said that the figures appeared to indicate that a degree of buoyancy was returning to the housing market, with the uptick in activity possibly being attributable to the excellent condition of the labour market: unemployment presently stands at a 42 year low. Mr Galley sounded a note of caution, though, underlining the existing pressures on household incomes - high inflation and minimal wage growth - as factors which might subdue prices going forward. He nonetheless believes that the lack of homes available for sale will support growth in the coming weeks and months.

Samuel Tombs, of Pantheon Macroeconomics, however, offered a significantly more downbeat interpretation of the figures. Firstly, he emphasised that the Halifax house price index is "twice as volatile" as the equivalent prepared by rival mortgage lender, Nationwide, and its contents need to be treated with appropriate caution - despite the tenor of the newspaper headlines which inevitably attend its publication.

House price growth, he added, is unlikely to continue at the rates seen in August for several important reasons:

1) demand for housing has unquestionably softened, with fewer new buyer enquiries being reported by RICS members in a worrying five out of the last six months.
2) real wage growth is at best subdued and, as mentioned above, inflation is high, a combination of factors which is curtailing consumer spending.
3) banks have stated their intention to tighten their lending criteria, following a warning from the Bank of England about alarmingly high levels of consumer debt.

Certainly, the shortage of houses on the market and low interest rates will continue to underpin prices, but overall growth this year is unlikely to exceed 1.5 per cent, concluded Mr Tombs.

Howard Archer, of EY Item Club, was in broad agreement with his counterpart at Pantheon, stating that the fundamentals for the market remain weak. He reiterated the point that inflation is outpacing wage growth and also stressed that consumer confidence remains weak, meaning that families are reluctant to commit to major purchases. The most recent GFK statistics, for instance, suggest that consumer confidence in August was only marginally higher than in July, when it dropped to a twelve month low. Accordingly, said Mr Archer, he believes that price growth this year - and probably next year, too - will be limited to around 2 per cent.

London property expert, Jeremy Leaf, expressed similar sentiments. We need to be mindful, he contends, that growth is being driven by the supply deficit, rather than by increased demand for homes and that, in areas where there are affordability constraints, the volume of transactions is faltering. Mr Leaf was one of the surprisingly few early commentators to mention the so-called Brexit Effect. He said that the short-term impact of the EU vote on housing was probably overestimated by market pundits. The longer term effect, though, has probably been underestimated and the uncertainty around the UK's exit negotiations is likely to persist for some time.

Nethouseprices view

One of our constant refrains when discussing the various house price indices is that different organisations have their own distinct methodologies for collating their monthly studies. The commercial institutions like Halifax and Nationwide, by way of example, rely heavily on their own lending figures which, by definition, are subject to a certain amount of volatility. In contrast, the Office for National Statistics (ONS) uses a wide range of official data, including Land Registry sold prices and Registers of Scotland figures. These variations means that it's difficult to draw too many firm inferences from each individual index in isolation.

This being said, the arguments being advanced by the experts we quote above are compelling and modest growth seems the most likely outcome for the balance of this year. We will, of course, monitor this story as it develops and cover the remaining indices for August and will adjust our forecast to reflect their findings.

More information on the methodologies used by the different agencies in preparing their indices can be found at: https://www.gov.uk/government/publications/about-the-uk-house-price-index/about-the-uk-house-price-index#the-difference-between-the-uk-hpi-and-others.

Visit us again soon for more news on the UK property market and for our other services, which include a free instant valuation tool, and hundreds of thousands of listings for houses which are currently for sale across England, Scotland and Wales.
Source: Nethouseprices 07/09/2017