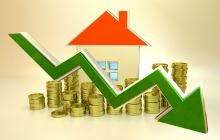 The kids are back at school, the annual holiday is becoming a distant memory and the weather is showing distinctly autumnal characteristics: there's a definite feeling of life getting back to normal after the summer hiatus. It's at this time of year that we often start thinking of tightening our belts, either in preparation for the next round of expenses - sorry to say it, but Christmas will be here before we know it - or to pay for major family projects like redecorating or renovating the house, moving to a new property or even saving for a deposit towards our own first home. Sorting out our finances is always difficult and there's a new set of challenges right now, with wage growth being outpaced by inflation and, in the view of some analysts, clear signs that the economy is faltering. But there are some tried and tested hacks to help you get back on track.

1. Check your credit scores

The importance of monitoring your credit score on a regular basis cannot be overstated, even if you are supremely well-organised when it comes to money management. Why? Well, while the credit agencies are generally scrupulous in their approach to data collation, errors do occasionally creep into their records. Identifying incorrect entries on your credit file early means that you can take steps to have them amended before they can hinder your ability to obtain credit. By extension, of course, it also enables you to identify any criminal or fraudulent activity associated with your name and address.

Similarly, as careful as we might consider ourselves to be about budgeting, our credit scores might still be disappointing. If you are very young and have a limited financial footprint, for example, you won't have a credit history for potential lenders to evaluate. There are ways to build a great credit score so that when you eventually apply for, say, a mortgage, you stand a better chance of being successful. See this Nethouseprices guide for more information: https://nethouseprices.com/news/show/2269/nethouseprices-guide-beginners-guide-to-credit-scores.

The following are the three principal UK credit reference bureaux:

- Equifax: https://www.equifax.co.uk
- Experian: http://www.experian.co.uk
- Callcredit: http://www.callcredit.co.uk

2. Shop around for savings accounts

Savings interest rates are notoriously low at the moment and there are few indications that the Bank of England is minded to hike them within the next few months. This is at best a mixed blessing. On the one hand, with house prices in the UK continuing to rise - albeit at a more sedate pace than in recent years - low interest rates can help us manage what would otherwise be punitive mortgage repayments. On the other hand, if you are trying to save for a deposit, you are no doubt growing frustrated with current returns on your savings.

Despite this, it's worth using an online comparison tool to check for the best products and you shouldn't hesitate to switch to other banks and building societies if you find a better deal: you're entitled to make your money work as hard as it can. The Money Advice Service has published this helpful guide to comparison sites: https://www.moneyadviceservice.org.uk/en/articles/price-comparison-sites-guide.

Many people find it profitable to consult an independent investment adviser who can assess your circumstances and guide you on the investments which can maximise your resources. See this useful introduction to finding an adviser: https://www.moneyadviceservice.org.uk/en/articles/choosing-a-financial-adviser.

3. Trim household expenses

As frugal as we all think we are, there are often ways to pare down our household expenses even further.

A) Utilities and water

It sometimes seems that utilities companies announce that they are raising their charges on a weekly basis and, as winter approaches, it's natural to be concerned about escalating bills. Experts recommend four measures to help contain these costs:

- Do check comparison sites for the best deals. You can make significant savings by switching to another provider, with some of the smaller companies now offering the most competitive prices.

- Make sure that your house is well-insulated, that windows and doors aren't letting heat escape and that your central heating is working at maximum efficiency. This might well involve some initial outlay of funds, but it will save you money over the longer term. There are various government schemes to help families renew their boilers and help towards utility bills is available for those who are on low incomes or who are otherwise vulnerable. See: https://www.gov.uk/energy-grants-calculator and https://www.gov.uk/browse/benefits/heating to check your eligibility.

- As your appliances wear out, replace them with more energy efficient versions and be mindful about your use of gas and electricity, using them only when strictly necessary. When cooking, for instance, using a microwave or slow cooker will often prove more economical than switching on your oven or hob.

- Install a smart meter which can help you keep a close eye on how much energy you are using and allow you to adjust your usage accordingly. In truth, some commentators aren't persuaded of the value of these devices, so we would recommend that you read around the subject to make your own determination. This article sets out the central points: https://www.uswitch.com/gas-electricity/guides/smart-meters-explained/.

With regards to your water supply, much depends on your family circumstances. If there are several of you living under one roof, you will no doubt use more water than a single person and having a meter fitted probably won't be of much financial advantage. Conversely, if your usage is low, it might be worth investigating the benefits of a meter. See: https://www.citizensadvice.org.uk/consumer/water/water-supply/paying-your-water-bill/changing-to-a-water-meter/.

If you do have a meter in your home, your supplier will provide free advice on the best ways to limit your use and the always helpful Citizens Advice has some important suggestions: https://www.citizensadvice.org.uk/consumer/water/water-supply/saving-water/saving-water-in-the-home-top-tips/.

Please note that arrangements for the supply of water are different in Scotland than in the rest of the UK. A brief guide to the arrangements north of the border can be found at: http://www.scottishwater.co.uk/you-and-your-home/your-charges/2015-2016-charges.

The team here at Nethouseprices hopes you have found Part One of this guide useful. In the next instalment, we will look at additional ways to save money in your everyday life and at ways to boost your income. Visit us again soon for this and for our coverage of house prices in the UK and the wider property market.
Source: Nethouseprices 12/09/2017