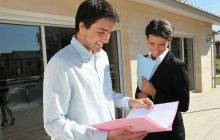 So you've saved for a deposit, found the perfect home and your lender has approved your mortgage: it's plain sailing from now, then? Well, not quite. There is still the usually lengthy and often stressful procedure of conveyancy, or conveyancing, to contend with. In this Nethouseprices article, we answer some of the most frequently asked questions about this phase of the house-buying process.

1. What, in a nutshell, is conveyancy?

Put simply, conveyancy is the process of transferring the legal title or ownership of a property from one person to another.

2. Who carries out the conveyancy?

There are two categories of professional authorised to perform conveyancy: solicitors and licensed conveyancers. If your conveyancy is straightforward and throws up no unexpected issues, you will obtain the same service from licensed conveyancers and their legally qualified counterparts, with the key difference being that solicitors typically charges higher fees. There is an important caveat, though. Solicitors will generally have the additional experience to navigate any complex problems that might arise, while conveyancers usually have a more limited area of expertise.

3. Where can I find a solicitor or conveyancer?

If you already have a family legal practitioner, the chances are that you will want to use his or her firm for your house purchase. Otherwise, it's not uncommon for mortgage lenders and estate agents to have panels of preferred conveyancers and they might well have negotiated special rates for their customers.

Should you need or prefer to choose your own legal professional, there are various online tools to help you compare prices and services. See, for example: http://hoa.org.uk/services/homeowners-alliance-conveyancing/.

It's crucial that you make sure that your conveyancer is properly authorised and you can find this information via the following resources:

Solicitors

- England and Wales: http://solicitors.lawsociety.org.uk

- Scotland: https://www.lawscot.org.uk/find-a-solicitor

Licensed conveyancers

- http://www.conveyancer.org.uk

4. Can I carry out my own conveyancing?

It's certainly possible to perform your own conveyancing and there are numerous online legal guides to help you do just that. There are some persuasive reasons for taking the law into your hands (so to speak). Firstly, you will save money, which can be a key consideration when you are moving house. Secondly, you might save time, since you won't be depending on someone else to do the work.

There are risks, however. Most conveyances are relatively simple but complexities do occasionally arise and you have to ask yourself whether you would be equipped to deal with these or whether you would end up having to consult a solicitor after all. Similarly, professional conveyancers have the appropriate insurance and, in the unlikely event that they make a mistake, they will have the resources to compensate you for any losses you might incur. You can also complain about poor services to the relevant professional bodies.

Additionally, the HomeOwners Alliance advises against DIY conveyancing in situations where:

- the property is being sold subject to leasehold
- the property isn't a house or flat
- the property isn't registered with the Land Registry in England and Wales or the Registers of Scotland
- the sellers are separating or getting divorced.

Do bear in mind that many mortgage lenders will insist that you engage an authorised solicitor or conveyancer.

5. How much will it cost?

Rates vary. Some conveyancers charge an hourly rate, while others offer a set fee or charge a percentage of the sale price of the house. Researching this, though, we found that the average cost across the whole UK currently seems to be between £800 and £1500. You will also be charged an additional fee for the various searches, such as Land Registry and local authority searches, that are executed as part of the conveyancing process. This can amount to upwards of £250.

If you are relocating for work reasons, your employer will often pay for the conveyancy work and, admittedly much more rarely, employment benefit packages sometimes include help with conveyancing costs, so do check to see if you are eligible for assistance.

6. How long will it take?

A standard conveyancy will take between six and eight weeks but, depending on whether there's a chain or whether any legal or technical problems emerge, it might conceivably take longer to complete. While modern technology has quickened the process to a degree, conveyancing remains a fairly time-consuming affair, so patience is very much the watchword. There is an exception: when you buy or sell a property at auction, the entire transaction can be completed much more speedily. This route to property ownership has its benefits and drawbacks. See the following Nethouseprices guide for more information: https://nethouseprices.com/news/show/2242/nethouseprices-guide-property-auctions-the-advantages-and-disadvantages.

7. Why is the process so lengthy?

The length of the process is partly a function of the law's different treatment of real property (houses, for instance, and land) and personal property (goods like cars, furniture and clothing). The legal framework for the transfer of title in real estate has evolved over centuries and is not without its eccentricities, especially in England and Wales, a factor which also slows down the whole process.

As frustrating as the process of completing the sale unquestionably seems, however, it is largely designed to protect you. Buying a house is the most expensive purchase many of us will ever make and the necessary mortgage is usually a decades long commitment, so it is vital that the legalities are recognised and due diligence performed. Your lender won't approve your home loan without conducting its own house valuation survey to make sure the asset over which it will be taking security is worth the money they are lending you. At the same time, you wouldn't buy a house without arranging your own structural survey, because you want to be sure that their are no hidden defects which could compromise its value and your enjoyment of your new home. The work carried out by a conveyancer is essentially part of the same process: checking that there are no problems around, for example, title or boundaries.

8. What if I am using the government's help-to-buy scheme?

The following is a useful guidance note explaining how conveyancers should approach work with those accessing help-to-buy:

https://www.helptobuyisaadmin.org.uk/conveyancers/the-scheme

We hope you have found this guide useful. Visit us again soon for all your news about house prices in the UK and the housing issues affecting you, your family and your business. Don't forget to check out our free house valuation service and other online resources.
Source: Nethouseprices 12/09/2017