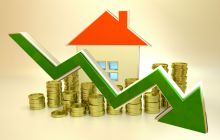 In the first section of this Nethouseprices guide to taking control of your financial affairs, we discussed the importance of monitoring your credit rating, optimising your savings and cutting costs on utilities and water. Part Two will focus on curtailing your outgoings on other major household expenses like groceries and home maintenance. We will then look at ways to supplement your income.

Paring down household expenses

Food

As we highlighted in Part One, price inflation is currently rising. At the time of writing, in fact, it stands at 2.9 per cent and the chances are that you have noticed the cost of your weekly grocery shop expanding. There is no lack of online guidance about strategies for cutting corners in the supermarket, but they are often impractical for busy people, involving as they do hours of planning and cherry picking deals, which means visiting numerous stores each week. Other food budgeting plans are hugely impressive. Researching this piece, for example, we came across several astonishing blogs whose authors demonstrate ways to cater for a family of four for just £1 a day. See, for example, the engaging: https://eatnotspend.wordpress.com.

With a great deal of work and willpower, these plans are no doubt effective and they unquestionably offer some neat ideas for feeding yourself and your family on a strict budget. For many of us, however, they will probably be too Draconian or simply take too long to execute. The good news is that there are some simpler workarounds:

1. Make a plan

This is standard advice, but it makes good sense for two reasons. Firstly, if you stick to a list, you won't overspend on items you don't really need. Secondly, you can use a tool like https://www.mysupermarket.co.uk and identify the best overall supermarket for your shopping on a weekly basis. Don't be too inflexible when you go shopping, though. If you spot some "yellow sticker" offers, for instance, think about whether you can substitute one of these ingredients for one on your list and save even more money.

2. Use loyalty points wisely

Do collect your loyalty points from your shopping, but don't stick slavishly to one supermarket just to accumulate vouchers if this means spending more each time you go shopping. Equally, it's often worth checking the details of the various loyalty schemes, because some stores offer ways to double up your vouchers if you buy certain products or use a partner company's services. This article contains some interesting tips: http://www.moneysavingexpert.com/shopping/loyalty-scheme-tricks.

3. Limit eating out

Eating out has become one of the UK's national pastimes and it is one of life's true pleasures, but it is expensive. We don't want to suggest that you edit it out of your spending in its entirety, but that you limit it to special occasions. Taking a packed lunch to work rather than buying a lunchtime snack on weekdays is an obvious and highly effective way to cut back, saving you pounds that can be used elsewhere. This BBC feature sets out some ways of making packed lunches more interesting: https://www.bbcgoodfood.com/recipes/collection/lunchbox.

There are plenty of ways to save money on those occasions when you do eat out. Many restaurants, by way of example, offer early bird/pre-theatre deals. One tip offered by savvy gourmets is to make lunchtime bookings when prices are typically lower. Resources like https://www.opentable.co.uk/london-restaurants can also help you find offers for dining out in your area.

4. Stick largely to government nutrition guidelines

This sounds horribly dull but, if you don't regularly depart from the government's guidelines on daily diet, you will find that you spend less on food and that what you do spend delivers optimum nutrition. The following are some useful NHS guides to diet:

- Eat well: http://www.nhs.uk/Livewell/Goodfood/Pages/the-eatwell-guide.aspx
- Eat well on a budget: http://www.nhs.uk/Livewell/eat4cheap/Pages/cheap-food-shopping.aspx.

Home maintenance

Home maintenance is an ongoing project and, as costly and labour-intensive as it might be, it's absolutely vital for your safety and comfort and to keep your house valuation intact. How much it will cost will vary depending on the type of property you occupy and where you live, but a general rule of thumb is that you should budget for between one and two per cent of your home's value per annum. You won't necessarily spend this much each year but, if you have these funds available each year and carry any balance over to subsequent years, you will build a reserve for bigger, one-off jobs. Are there ways to keep a lid on these costs? Yes, if you exercise caution.

1) DIY

If you can carry out a task safely and competently, do it yourself. Be realistic, though, and don't put yourself at risk: not everyone should be climbing ladders to clear gutters, for example.

2) Shop around for tradespeople

When engaging a tradesperson is unavoidable, do shop around for the best deal and don't just settle for the first quote you are given. This being said, going with the cheapest quote can be a false economy if you receive a shoddy service, so do check testimonials for any painter and decorator, plumber or electrician and, where relevant, check his or her membership of trade bodies.

3) Shop around for supplies

Check online to see which stockists are offering the best deal on products like paint and cleaning supplies. Do look at customer reviews for cheaper generic items, because these often do the job just as well as their more expensive counterparts.

4) Keep a home maintenance log
Keeping a log of the maintenance carried out on your home has two budgeting functions. Firstly, it helps you to avoid the cost of repeating tasks which have been performed relatively recently. Secondly, it means that you don't omit jobs or miss small issues that can escalate into more expensive problems and even undermine your house valuation.

5) Look out for an upcoming, more detailed Nethouseprices guide to home maintenance!

We hope Part Two has given you some ideas for cost-cutting. In the final instalment of the series, we will look at ways to supplement your income. Visit us again soon for this and for our coverage of UK property news.
Source: Nethouseprices 12/09/2017