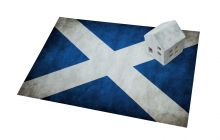 As regular readers of Nethouseprices columns will recall, Scotland recently won a remarkable accolade: it is, according to readers of the Rough Guide series of travel books, the most beautiful country on earth. Across the UK, landlords are reacting to changes to the tax rules around buy-to-let by turning to holiday lets. Given Scotland's clear appeal as a holiday destination, it's understandable that investors are looking especially closely at opportunities in that country. While holiday lets can be hugely lucrative, they frankly aren't licences to print money and they can involve a great deal of hard work. In this feature, we set out the pros and cons of investing in a holiday let in Scotland.

Advantages

1. Valuable asset

When you buy a property for the holiday let market, you are investing in an asset that is likely to rise in value, as well as providing a healthy income. If you plan ultimately to sell the property, the capital return will be potentially significant. If you are hoping eventually to move into the home at some point, perhaps in retirement, any mortgage will have been substantially paid off by your tenants. In both cases, you will make a respectable income from your investment because, in general terms, you can charge more rent for a holiday let than for a standard rental.

The value of a holiday let isn't limited to the financial. You and your family will have a ready-made vacation property, although, if you are anxious to maximise revenues, you will probably find yourself occupying it during non-peak times when you haven't managed to let it to holidaymakers.

2. Tax advantages

The Scottish government has introduced a tax on additional, or investment, properties which is broadly analogous to the Stamp Duty surcharge levied in England and Wales. If you buy a property for the holiday let market in Scotland, you will be required to pay the standard Land and Buildings Transaction Tax rates, as well as a three per cent surcharge. See: https://www.stampdutycalculator.org.uk/stamp-duty-scotland.htm
for more information.

However, it isn't all bad news about tax. Furnished holiday lets are among the classes of properties which are exempt from the controversial changes to mortgage interest tax relief for landlords. See: https://www.gov.uk/government/news/changes-to-tax-relief-for-residential-landlordsfor more information.

3. Easier than ever

The internet has made it possible for holiday home-owners to access an international market, potentially reducing the "downtime" when the house or apartment is unoccupied and bringing in no income. In addition to this, such platforms as the wildly popular Airbnb make it an astonishingly simple matter to market and let your property.

Similarly, because you will be offering very short tenancies and you are paid in advance, you can avoid some of the administrative headaches associated with being a traditional landlord. You won't, by way of example, need to carry out credit checks or take up personal and financial references for prospective occupants.

Downsides

1. Outlay

Residential property in popular holiday destinations is typically rather expensive. Recent research from Nationwide, for instance, shows that the country's national parks boast some of the highest house prices in the UK. See: http://www.nationwide.co.uk/~/media/MainSite/documents/about/house-price-index/2017/National_Parks_Special_2017.pdf.

If you intend using a mortgage to fund your investment, you will be required to meet tough affordability criteria and prove to potential lenders that you will realistically be able to manage your monthly repayments. This task becomes less straightforward as house prices rise. As an aside, if you are considering letting out a property on which you already have a mortgage, it's vital that you check that the terms of the contract permit you to let it out to tenants. There has been something of a flurry of media stories during the past few weeks suggesting that many holiday lets are being offered in contravention of mortgage agreements.

Renovating the property, if necessary, and decorating and furnishing it to a standard that is acceptable to holiday-makers can be time-consuming and expensive. You will need, for example, to provide more luxurious facilities than a long-term tenant would require. This being said, you might be able to claim a tax allowance in respect of this outlay.

2. Ongoing maintenance and expenses

You will need to clean the property following every letting and provide fresh bed linen and towels. These are jobs which can prove quite challenging, especially if you welcome overnight and other "short break" guests. The frequent turnaround of tenants also mandates careful maintenance of the house to ensure that it complies with the relevant safety standards. It's possible to delegate this work to an agency or management company, but the costs of this service will erode your income.

Utilities such as water, electricity, gas and broadband will almost always be included in the overall nightly or weekly rate, representing a significant expense for holiday let owners.

Finally, insurance for holiday lets will normally be fairly costly, most notably if the house is located in an area where there are such environmental risks as flooding. For more information on this issue, see: https://www.gov.uk/government/organisations/environment-agency and https://www.environment.gov.scot.

3. Downtime

It's unlikely that the property will be occupied for the entire year. In fact, in locations where the weather is an important factor, you might struggle to let your holiday home outside of spring and summer. Even in cities, business tends to tail off at certain times of the year. During this downtime, you obviously won't be receiving any rental income, but will still have to make any mortgage payments. You will, of course, be able to use this time for redecorating and major maintenance work, minimising disruption at more profitable times of year. As highlighted above, the property will also be available for your own family holiday.

The team at Nethouseprices hopes that you have found this article informative, but we would always recommend that you obtain legal, accounting and investment advice from a professional who is aware of your individual circumstances, as not every investment opportunity will be right for you.

Visit us again soon for our news coverage of house prices in the UK, and in Scotland in particular, and for views on the wider property market. Don't forget that our free instant house valuation service now includes Scotland.
Source: Nethouseprices 10/10/2017