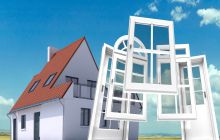 Having new windows and doors fitted in your home can improve its energy efficiency, bring your fuel bills down, make it more secure and enhance its appearance. It can be a costly project, though, and you need to take great care in choosing a professional to carry out the work. In this quick guide, we set out some tips for finding a competent and ethical tradesman and for obtaining the best possible value for your money.

First considerations

1) Funds: The first step is to establish a budget for your windows and doors. If you are planning on having multiple windows and doors replaced, this will typically be a rather expensive undertaking, so if you need bank financing, speak to your loan arranger to be sure you have the funds in place. Do shop around for the best loan deals.

NOTE: Some larger window and door fitting companies offer credit arrangements. This can be a useful and practical solution, but do scrutinise the terms and conditions and check the interest rates. Credit cards might also be useful, especially if you can find a suitably low interest rate and the product offers extra insurance for purchases and services.

Some local authorities still offer financial help for home improvements. See: https://www.citizensadvice.org.uk/housing/moving-and-improving-your-home/help-with-home-improvements/ for more information.

NEVER: Pay for the whole job upfront.

REMEMBER: You might get a much better deal from your fitter if you replace all or most of your windows and doors at the same time. Besides your safety and comfort, a key concern will be your house valuation, so feel free to talk to local estate agents about what sort of improvements are likely to boost the sale price.


2) Be clear on what you want

Different types of glazing and frames have varying qualities and drawbacks, so you need to develop a fairly clear idea of your preferences. In deciding this, you will be informed partly by your budget, partly by practical considerations and partly by aesthetics. If, for example, you live in an old house, it's possible that wooden frames,irrespective of cost and other downsides, are more appropriate than man-made materials.

Equally, there might be local restrictions - in conservation areas, for example, or where you live in a listed building - on the type of window you are permitted to install. You might also need to seek planning permission from your local authority. While the professional you engage will be able to offer advice on these issues, you should familiarise yourself with the requirements. See: https://www.planningportal.co.uk/info/200130/common_projects/14/doors_and_windows for more information.

DON'T FORGET: You will need Building Control Approval for windows from your local authority. See: https://www.gov.uk/building-regulations-approval for more information.

Choosing an expert

1) The law

There is a framework of building laws and regulations governing the installation of windows and doors and you therefore need to employ a "competent person" to undertake the work. To ensure that the tradesman you employ is appropriately qualified, only invite estimates from individuals who are:

- In England and Wales: Members of the FENSA Competent Person Scheme. See: https://www.fensa.org.uk.
- In Scotland: Members of the Federation of Master Builders. See: https://www.fmb.org.uk.

NOTE: There are strict energy efficiency rules for doors and glazing, so you should check that the tradesman uses products which are certified by the British Fenestration Rating Council. See: https://www.bfrc.org.

VITAL: If the windows and doors aren't installed by a competent person and in accordance with statutes and regulations, you might well be required to have the work corrected at your own expense.


2) Testimonials and completed work

Ask the people pitching for the work if you can see examples of their completed work and check out testimonials from former clients. Word-of-mouth can be a great way to find competent tradesmen, so do ask around among friends, family and neighbours for recommendations.

Do check the details provided on the company stationery, including VAT registration details and registered offices at https://beta.companieshouse.gov.uk.

This information doesn't, in itself, guarantee that you will receive a satisfactory service, but it does indicate that the company is stable and complies with company filing laws. Don't be tempted by "cash in hand" discounts or VAT avoidance schemes. Yes, it might save you money, but it's illegal and unfair on those who do pay the VAT, as required by law. Be wary of companies offering you this type of discount, since it is a sign that they are at best ignorant of the law and at worst dishonest. It's unlikely that you would want either category of tradesman to carry out a big project on your property.

3) Ask:

- For a fixed estimate and a schedule of when payment is required.
- For details of insurance and the warranties being offered.
- Who exactly will be carrying out the work and who will manage the project.
- What is the expected timeframe for completion and will there be any discounts in the event of avoidable delays.

4) Insist on:

- A written contract specifying the work to be carried out. This is for the protection of both parties.
- Being given the relevant documentation to prove that the work was carried out by a competent person and in compliance with all relevant building standards. This is crucial because, when you decide to sell your home, it's value can be compromised if this paperwork isn't readily available.
You can also sign up to our newsletter and join Nethouseprice's community of over 190,000 members who get regular property tips, relevant offers and news, click here http://nethouseprices.com/auth/user-register
Source: Nethouseprices 12/10/17