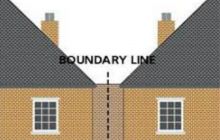 Party Wall Notices are not the kind of invitation to get excited about, but they should not be ignored. A party wall is one that sits on land owned by two or more landowners. It can form part of a building, or it can be a garden wall. The party wall is considered to be jointly owned by the landowners on whose property it sits.

Disputes relating to party walls can impact house valuations, as ongoing disagreements can make it difficult for landowners to continue living in the area, and can make potential buyers choose a less controversial purchase. As property prices remains an issue of extreme importance for owners everywhere, it is in everyone's best interests to ensure that any disagreements are dealt with swiftly, and for this reason, Party Wall Notices must be used.

In England and Wales, the Party Wall Act 1996 applies when either owner of a party wall intends to do work that will or could affect the wall, and a Party Wall Notice may be necessary. The Act does not apply to Scotland or Northern Ireland - the obligations and implications for properties in both countries is explored in greater detail below.

If you are in England and Wales and have a party wall, you must tell your neighbour if you intend to:

1) build on or at the boundary of the two properties

2) carry out work on an existing party wall

3) dig under and near to the foundation level of their property

The type of work that would mean that you intend to do these things can range from the obvious building of a new wall, altering an existing party wall, removing chimneys, or rebuilding a party wall. You would not need to inform your neighbour about minor changes.

Who pays for work on the Party Wall?

The owner who starts the work on the party wall is the one who must pay. However, the neighbouring landowner may need to pay some of the cost if the work is essential because of defects, or poor maintenance on their part of the wall, or if they have requested additional works that will benefit them.

What rules apply to the Party Wall Notice?

The Party Wall Notice must be given to the owner of the neighbouring property between two and twelve months before the building works commence.


Many people find that it helps to discuss their plans with the neighbours in person before sending the official notice. It can help to ease any concerns they may have and ensure that they are not so shocked when they receive the Party Wall Notice in the post.

How do you respond to a Party Wall Notice?

If your neighbour sends you a notice that they intend to carry out work which affects a party wall, this is your opportunity to speak out if you are not happy with their plans. Your options are:

1) To give written consent within 14 days if you are happy with the intended works.

2) To refuse consent - as a result of which the dispute resolution process will commence.

3) To serve a counter notice requesting some additional work to be carried out at the same time. You will have to pay for these works if they benefit you. This counter notice must be sent to the neighbour within one month of receiving the Party Wall Notice.

In the absence of a response, the assumption will be that consent is not given, and the dispute resolution process will start.

What happens in the Dispute Resolution Process?

If there is a disagreement, a surveyor must be appointed to decide what should happen. This will automatically happen when there is no notice received that the neighbour consents, and a surveyor must be appointed within 10 days. There can be just one surveyor, or a surveyor each who will have to reach an agreement on what should happen.

The surveyor will visit both properties and draw up a Party Wall Award, which will set out the following:

1) what work should happen that will affect the party wall

2) how the work should be carried out, and within what timescale

3) who will pay for the work to be carried out, and how much should be paid

Either owner can appeal against the award if they disagree with it. The appeal must explain why you disagree with the award, and has to go to your local county court within 14 days.

Ongoing disputes can sour neighbourly relations, which can have an adverse impact on property prices. The impact of any work on a party wall also has the potential to alter the house valuation - either up or down. These are important issues to bear in mind when considering any work on a party wall. These are also issues that the surveyor will take into account when considering whether the work should be carried out.

What happens to Party Walls in Scotland and Northern Ireland?

In Scotland and Northern Ireland a boundary wall, one built equally on both sides of a boundary, is considered to have an invisible line down the middle of it, with each owner owning half. The law states that each owner has a common interest in the wall as a whole. As a result, each owner is entitled to use his share of the wall as he likes as long as that use does not negatively impact upon the common interest in the wall as a whole.

This means that there is no obligation to send a Party Wall Notice in either Scotland or Northern Ireland, but similarly, if there is a dispute, then the owners can go to court to have it resolved.

Source: Nethouseprices.com 01.11.17