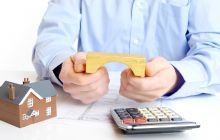 A bridging loan can be an indispensable financial tool that can enable house buyers to purchase a property when they don't immediately have the necessary funds to hand. These loans are essentially a short-term funding option and are used to "bridge" the gap between when a property must be purchased and when the main funds become available.

Benefits of bridging loans

The most common situation in which a bridging loan is used is when a buyer wishes or needs to complete the purchase of a property before selling an existing property, which would realise essential funds. These days, with UK house prices still on the up, the sale of an existing property is, for the vast majority of borrowers, an absolute necessity to obtain the necessary funds to purchase. If there is a hold-up on a sale, a bridging loan can ensure that a purchase proceeds, regardless.

Bridging loans can also assist when a purchaser buys at auction, acquires a site pending planning permission, is downsizing or refurbishing an uninhabitable property, or simply needs assistance with cashflow.

A bridging loan is frequently organised in a very short timescale - days, as opposed to weeks or months. This can mean that a sale that would otherwise fall through can proceed as planned.

Fundamentally, bridging loans can enable house buyers to complete on a purchase that would otherwise not be possible. However, they are not without their inconveniences.

Disadvantages of bridging loans

As bridging loans are provided in a short timescale for often very large sums of money, they are significantly more expensive than standard mortgages. In addition, most lenders will charge substantial administration fees.

Most bridging loans are provided on a term from 1 day to 18 months, until such a time as the awaited funds are realised.

If there is no strategy in place to repay the loan in full within this timeframe, or there is a serious risk that the repayment will not be possible, borrowers should seriously reconsider using a bridging loan as a finance option, particularly because of the high interest rates that are usually charged.

Most people will not take out bridging loans unless they have no alternative, and the long term benefits are worth it.


Who are the lenders?

The complexity of bridging loans, together with the wide choice of lenders available on the market, make it prudent to employ a commercial finance broker to ensure that you know what you are getting yourself into. The options that need to be considered are the level of interest charged, whether this will be at a fixed or variable rate, and the term of the loan.

Make sure that the lender you choose is very clear on any additional fees that will be charged if you purchase their product. Common charges can include arrangement fees, valuation fees, administration and repayment charges, and exit fees.

It is generally recommended to use a lender who is registered with the Financial Conduct Authority (FCA), the watchdog who will resolve disputes and ensure that the lender complies with all necessary rules and regulations.

Can you repay early?

Finance professionals often talk about when a loan is going to be exited. The exit refers to the time when the bridging loan is repaid in full, or is moved into a longer term finance option, like a mortgage. A closed bridging loan is one that has a fixed exit date, whereas an open bridging loan starts without having a fixed exit date.

Different lenders provide bridging loans on different terms, so it is important to be clear whether you have a fixed exit date or not, and also whether there are any increased charges should you be fortunate enough to be in a position to repay the loan in full before a fixed exit date.

If for nothing else, the requirement on FCA regulated lenders is that they are transparent and provide clarity when they enter into a financing agreement with individuals. There is a wide range of bridging loan options on the market and it is important to choose one that fits your needs, the terms of which are clearly explained.

If you default on the loan repayments

The problems that occur if you default on your bridging loan are similar to what would happen if you failed to keep up with your mortgage repayments. Initially, you may build up arrears charges. However, if you continued to default on the repayments, although the property would remain in your possession, the lender could take steps to repossess it.

Sometimes, lenders do not wish to repossess a property, for example if UK house prices experienced a slump or the house valuation was less than expected. If this is the case, then the lender has the right to appoint an LPA receiver, who would have the power to receive an income from the property, by renting it to tenants or selling part or all of it.
You can also sign up to our newsletter and join Nethouseprice's community of over 190,000 members who get regular property tips, relevant offers and news, click here http://nethouseprices.com/auth/user-register
Source: Nethouseprices 1/11/17