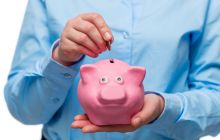 Part One

Recent data show that homeownership is currently running at its lowest level for more than 25 years. The reasons for the decline are somewhat complicated, but the key drivers are house prices in the UK and the difficulty first time buyers (FTBs) experience in saving for an adequate deposit. Despite the formidable challenges faced by FTBs, however, the ambition among young Britons to become householders remains undimmed, with one recent poll suggesting that just shy of 90 per cent of them aspire to owning their own home. So, is there a simple, failsafe strategy for building up a deposit for a house or flat? The short answer is that there are too many variables in our own lives and in the wider national economy for the team at Nethouseprices to be able to offer any guarantees. However, there are some guiding principles which will help to optimise your prospects. In Part One of this guide, we look at ways to cut back your outgoings, before turning in Part Two to making your savings work harder and what assistance is available to FTBs.

Draw up a budget

It's well-documented that wage growth in Britain is currently being outpaced by general inflation, meaning that adding to our savings is more difficult, with the necessities of living consuming so much of our income. This being said, it is usually possible to make tweaks to our spending. The first step to achieving this is to keep a journal in which you faithfully record every penny you spend for a period of at least a month. The object of this exercise is to help you to identify and eliminate the unnecessary outgoings. There will be some obvious low-hanging fruit. You might, for instance, spend a little too much on socialising. While cutting back on these activities won't be enjoyable, the sacrifice will seem worthwhile when you see a growing savings account.

The potential for economies elsewhere in your life might seem elusive, but household finance gurus typically suggest that you consider the following:

Food: Plan your meals, produce and stick to a shopping list and, wherever possible, avoid eating out. This example has been cited so frequently that it has almost become a cliché, but it does make its point rather graphically: at £2.50, your daily coffee shop beverage seems like a minor luxury. If you indulge in this treat every working day, however, you will be spending £12.50 each week - or an astonishing £650 per year. Your "bargain" daily lunch deal eats up even more of your precious income. Taking a packed lunch to work every day is a relatively painless way to save money.

Utilities: Shop around to be sure that you are getting the best deal from your providers and be mindful about how you use your supplies. The truth is that most of us use far more gas and electricity than is strictly necessary. See, for instance: http://www.britishgas.co.uk/help-and-advice/save-energy-save-money/Energy-saving-tips/top-10-energy-saving-tips.html.

Transport: Walk and cycle whenever you can. This will not only pare down your transport costs but it will help you keep fit. If you need to drive to work, why not consider carpooling with colleagues, so that all of you save some money?

Clothing, appliances etc: The rule here is to shop around, and trade down where possible. The most expensive isn't always the best and cheaper versions might be perfectly serviceable - and, before buying anything, ask yourself whether you need it or just want it. If the former, go ahead and buy it at the lowest price. If the latter, as brutal as it sounds, put it back.

These are just a few recommendations and further ideas will probably present themselves to you. We have mentioned this in previous columns, but it bears repeating that there is an active and vibrant online community around managing the cost of living. See, for example: https://www.moneysavingexpert.com/. These resources are helpful for two reasons. Firstly, they might give you further inspiration about ways to save money. Secondly, they do demonstrate that you aren't alone in your struggle and that economising can be uplifting and even enjoyable.

With all of this in mind, draw up a monthly budget, stick to it and redirect any surplus to your savings account.

2. Housing

Accommodation is expensive in the UK and renters can get trapped in a cycle where they are spending so much on their current housing that they struggle to save money towards a property of their own. This is a recognised problem and there are various government initiatives afoot to help contain the costs of renting. There is, by way of example, a draft legislation which, when formally implemented, will ban letting agency fees. Despite these measures, rent no doubt represents a big chunk of your monthly salary. There are no easy workarounds, but it might be worth considering:

Relocating and downsizing: Could you live in a different area or in a smaller house or apartment, where the landlord will be asking for less rent?
Get a housemate: Do you have a friend or colleague with whom you could rent a property? Rentals for more than one person are usually proportionately less expensive.
Rent out a room: You will need your landlord's approval, but it might be possible to sublet a room in your rental.
Move back into parents' home: If you have been independent for some time, moving back in with Mum and Dad might seem less than ideal, but it can work for some people and, even allowing for any contribution you might make to the family coffers, you will save a great deal of money on rent. This might, in fact, be the quickest route to saving for a deposit.

We hope you have found Part One of our guide to saving for a deposit useful. Visit us again soon for the final instalment, as well as for our news coverage of house prices in the UK and wider property market developments.

Source: Nethouseprices.com 07.11.17