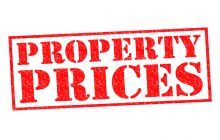 Nationwide's monthly property index, published in early November and greeted with modified rapture by the media and property industry alike, suggested that, contrary to all expectations, house prices in the UK continue their steady ascent. All eyes then turned to rival mortgage lender, Halifax, to see whether its similarly influential study would deliver a matching picture of the market in October. In the event, the Halifax index reveals even healthier growth. In this Nethouseprices article, we examine the detail of the latest data and evaluate the expert reaction.

The Halifax headlines

The report's key findings are that:

- house prices in the UK were 4.5 per cent higher in the three months to October than in the same quarter of 2016. This compares with annualised growth of 4.0 per cent in September and represents the fastest growth rate on this measure since February.

- property prices increased by 2.3 per cent in the quarter to October. This is the fastest recorded growth on this measure since January.

- the average residential property across the country costs 0.3 per cent more than in September. The previous month saw a rise of 0.8 per cent.

- the cost of a house or apartment is now £225,826, up from £219,741 in January and £225,070 in September.


Other eye-catching facts

As well as the statistics around house prices, the Halifax report contains some additional facts about the housing market collected from various other agencies. These details often provide a useful indicator of underlying trends which might impact the cost of housing in the coming weeks and months. We found the following facts particularly fascinating:

- mortgage approvals, a major barometer of the health of the sector, fell for the second consecutive month, with some 66,236 loans being agreed in September. This being said, 3 per cent more mortgages were approved in the last three months than in the previous quarter. This information is based on official Bank of England figures.

- the volume of home sales declined by 2 per cent, to 100,850, in September. On a quarterly basis, however, there were 6 per cent more transactions and, as Halifax points out, sales have remained above the 100,000 threshold every month since January. These data are supplied by Her Majesty's Revenue & Customs.

- new sales instructions have now fallen for 19 consecutive months, according to the Royal Institution of Chartered Surveyors, a factor which is limiting market activity. Listings on estate agents' books do, however, remain largely stable. Purchaser enquiries fell for the sixth successive month in September, reaching their lowest levels since January 2016.

Muted consumer optimism

Halifax also highlighted the main points from its latest Housing Market Confidence Tracker, a publication which charts consumers' housing market optimism. Given that prices have, at least to an extent, shrugged off such factors as Brexit and defied the more gloomy forecasts, consumers seem to be comparatively downbeat about the potential for growth during the next 12 months. Of those polled:

- just 50 per cent expect the cost of housing to increase in the coming year. Not since April 2013 have we seen such low expectations.
- 20 per cent anticipate a fall in prices, pessimism not matched since October 2012.

As well as highlighting consumer sentiment about house price inflation, the report explores such issues as perceived barriers to buying a home. Intriguingly, it found that:

- 61 per cent of those consulted think that saving for a deposit is the biggest obstacle. This tends to suggest that the government's messaging about help-to-buy is reaching a limited audience.
- 42 per cent believe that job insecurity is a significant bar to progress on the housing ladder, a revelation which, in a sense, seems surprising. We are currently boasting the highest levels of employment for over forty years. Sluggish wage growth and worries around the types of jobs on offer might be the main drivers of workers' concerns.
- 15 per cent were worried about the impact of rising interest rates, although Halifax takes care to underline the fact that the survey was carried out before the Bank of England hiked its base rate by 0.25 per cent.

Expert reaction

Reacting to his organisation's research, Russell Galley, Managing Director of Halifax Community Bank, echoed the views expressed by his counterpart, Robert Gardner of Nationwide, saying that low interest rates, a healthy jobs market and a shortage of houses for sale were supporting prices and will probably continue to do so. While he thinks that the rising cost of living and affordability issues might conceivably weigh down demand, he doesn't envisage the rise in interest rates having a material effect on house price inflation.

Elsewhere, the response was mixed. Samuel Tombs, of Pantheon Macroeconomics, for example, said that the Halifax index was more volatile than those produced by other institutions and he was inclined to afford it less "weight." Halifax, he contends, found that prices rose by 2.3 per cent on a quarterly basis while, on the same measure, Nationwide and Rightmove reported growth of just 0.8 and 0.2 per cent respectively. In his view, Rightmove's figures are more reliable. His prediction is that the housing sector will "flatline" during the next year or so.

Nethouseprices view

Clearly, the Halifax figures don't exactly mirror those being collated by other bodies, but they can't be lightly dismissed. Why? Well, firstly, we are still awaiting the Office for National Statistics index for October and this might well support the Halifax study. And secondly, even allowing for differences in the details, virtually all the indices are pointing to some degree of growth, so Halifax isn't entirely out of kilter with everyone else. Accordingly, we find it hard to disagree with the main points made by the building society - that conditions are such that modest rises in house prices are likely to persist in the short and medium terms. We will, of course, continue to monitor the sector and will adjust our forecast to reflect changes in the UK economy and other factors.

Visit us again soon for our coverage of the other house price indices, as well as our commentary and analysis of the wider property market. Don't forget to check out our other online services, including our free instant house valuation tool.
You can also sign up to our newsletter and join Nethouseprice's community of over 190,000 members who get regular property tips, relevant offers and news, click here http://nethouseprices.com/auth/user-register
Source: Nethouseprices 8/11/17