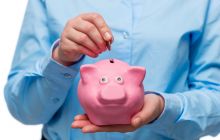 Part Two

Halifax recently published the results of a survey it had conducted into consumer attitudes towards the housing market. One of its more troubling findings was that some 61 per cent of those polled believed that, despite government schemes to help first time buyers (FTBs), saving for an adequate deposit was the principal obstacle to buying a home. This perception isn't entirely surprising. High house prices in the UK, a rising cost of living and minimal interest on bank savings all mean that building a deposit is more challenging than ever. As we highlighted in Part One of this Nethouseprices guide, however, there are some strategies for speeding up the process and maximising your savings. In that instalment, we considered ways to pare back your expenses. In Part Two, we turn to ways of boosting your finances and making them work harder for you.

Best returns on your savings

The Bank of England raised its base rate by 0.25 per cent in early November, the first increase the country has seen in over a decade. At just 0.5 per cent, though, the rate is still very low by historic standards and the change is not expected to materially affect mortgages and other loans or returns on bank savings. In other words, you are unlikely to notice much difference for the time being. As discouraging as the savings interest rates might seem, there are ways to boost the returns:

Shop around: Many of us use the same bank for all our financial products, a custom dating back to when there was very little competition among providers. Nowadays, lots of financial institutions want your business,, and are prepared to compete for it, so it is worth consulting a comparison tool to find the very best savings deals. New offers appear quite frequently, too, so make it a habit to compare products on a regular basis and be prepared to move your money if you think it can serve you better when invested with a different bank or building society.

Use your tax-free ISA allowance and give a thought to fixed-term savings products: These might put restrictions on when you can withdraw your money, but they generally deliver higher yields, so they are a good option when you are saving for something specific like a house deposit.

Save regularly: This sounds rather obvious but, unless you have an arrangement whereby you make a regular automatic monthly deposit to your savings account, you will have to remember to transfer any surplus. It's easy to forget to do this and for the money to be spent elsewhere.

Think laterally: Against a backdrop of low interest rates, there is an understandable temptation to look at other classes of investment, such as stocks and shares. This can be a hugely lucrative venture, but it carries serious risks and you shouldn't contemplate it without taking professional advice from an independent financial adviser who understands your circumstances and can offer guidance on the best use of your resources.

Boosting your income

In previous Nethouseprices columns about financial housekeeping, we have stressed that the standard advice about getting a better paid job or working more hours simply isn't a solution for everyone. If you can make these changes without compromising your health and family life, then they are worth considering. But if changing your employment isn't an option, there are various online guides to boosting your income from home. It's only fair to warn you that none of them will make you rich and you need to make a careful assessment of whether they merit the effort they will involve. We don't endorse any particular guide, but the following is generally very popular: https://www.moneysavingexpert.com/family/make-money.

The point about additional income is that it can be added to savings to accelerate the process of getting together a deposit. It can, however, also be used for the odd treat, so that you don't feel too deprived when you are working so hard to buy your first home.

Government help-to-buy schemes

There are various government schemes which have been designed to help FTBs. They aren't without their critics, with some observers arguing that they are of little assistance to those who need them most and that the key beneficiaries have been private housebuilding firms. We would nonetheless urge you to explore the options because, notwithstanding the criticism, the measures are known to have helped many FTBs to buy a house or flat.

See: https://www.helptobuy.gov.uk in England and Wales and http://www.gov.scot/Topics/Built-Environment/Housing/BuyingSelling/help-to-buy in Scotland.

Family help

The so-called Bank of Mum and Dad isn't available to everyone and many FTBs wouldn't, in any case, want to make a withdrawal. However, increasing numbers of older people are releasing equity in their own homes in order to help family members buy a property. In a sense, this is freeing up an inheritance when it is most needed and there are several potential tax advantages to be derived from this type of gift. There are also various bank products which allow parents to pay your deposit and recoup this outlay with interest after several years. Depending on your family circumstances, it might be worthwhile examining these possibilities. You will find many online guides, but the following is a helpful basic introduction: https://www.which.co.uk/money/mortgages-and-property/mortgages/guides/getting-a-mortgage/how-can-parents-help-first-time-buyers.

Next steps

Saving for a deposit is a massive achievement, but it won't guarantee that your application for a mortgage will be approved. Lenders must comply with strict regulations when lending money for house purchases and will assess your general creditworthiness and whether you can afford mortgage repayments now and in the future. As well as building savings, then, it's crucial that you make sure that your wider financial affairs are in excellent order. This means keeping a close eye on your credit card and current account and taking care to pay all your bills on a timely basis. You don't want to undermine all your hard work in building a deposit by being consistently late in paying your utility bills!

The team here at Nethouseprices hopes that you have found this guide useful. Visit us again soon for more in our series of guides to the property market, as well as for our coverage of house prices in the UK.
You can also sign up to our newsletter and join Nethouseprice's community of over 190,000 members who get regular property tips, relevant offers and news, click here http://nethouseprices.com/auth/user-register
Source: Nethouseprices 9/11/17