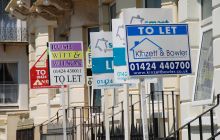 When she first took office, Prime Minister, Theresa May, said that one of the central policies of her administration would be easing Britain's housing crisis. "Fixing the broken housing market" was, she said, her main ambition. During her tenure, various measures designed to increase the supply of new homes have been announced. As welcome and necessary as this intervention is, it faces formidable obstacles and really isn't expected to make a significant difference to the volume of new builds in the short term. There is also very little which can be done, at least directly, to solve that other bar to homeownership - inflated house prices in the UK. This being the case, the government has been compelled to seek out ways to make the existing housing market, including the private rental sector, work better. One of its flagship strategies in this regard is to ban letting agencies from charging tenants for their services.

After months of delay and speculation that the policy would be quietly abandoned, Sajid Javid, Secretary of State for Communities and Local Government, has published draft legislation which, when enacted, will not only ban these fees, but make various other adjustments to the landlord and tenant relationship. Mr Javid also issued a consultation document on client money arrangements. In this Nethouseprices article, we look at the protections being proposed.

Draft Tenant Fees Bill

1) Rationale for the legislation

Introduced to the House of Commons on 1 November 2017, the aim of the draft Tenant Fees Bill is, said Sajid Javid, essentially to remove the burden of upfront fees for people seeking to find rental homes. This is important for numerous reasons.

The transparency will help potential tenants to understand and plan for the actual cost of renting a property. This contrasts with the current situation, where agency fees are often higher than expected and can cause serious financial difficulties or can even prevent families and individuals from finding a home.

It will make renting a house or apartment generally more affordable. Expensive housing is one of the key pressures on consumer finances and any relief will be welcomed, especially by those who aspire to homeownership and are struggling to save for a deposit.

While many agents admittedly provide good value for their service, there is little doubt that others charge excessive fees for such simple activities as following up references and obtaining credit scores. Some agents are also known to "double charge." In other words, they charge landlords and tenants for the same service.

In the briefing notes to the draft legislation, Mr Javid said that the Department for Communities and Local Government (DCLG) had received some 4,700 responses to its initial consultation, with 90 per cent of those polled supporting a ban on agency fees and 70 per cent saying that existing arrangements compromised their ability to rent a home. The government, it would seem, is on firm, not to mention popular, ground with this policy.

2) Contents of the draft legislation

As well as banning agency fees for tenants, the law will:

- create a civil offence whereby lettings agents will be fined £5,000 for breaching the ban on fees for the first time.
- create a criminal offence whereby agents who breach the ban in fees and have already been fined or convicted for breaching the rules within the previous five years will be prosecuted or issued with a civil fine of £30,000.
- give Trading Standards the appropriate powers to enforce the rules and to make provision for tenants to recover illegally applied fees.
- create a lead enforcement agency for the lettings sector.


Landlords need to take note that the law will also:

- limit holding deposits to a maximum of one week's rent.
- limit security deposits to a maximum of six weeks' rent.
- make provision for agents and landlords to return holding deposits to tenants.

The draft Bill will be scrutinised in Parliament before formal enactment and might well be amended. We will, of course, monitor its progress and will inform you when it finally becomes law. Once on the statute books, it will apply only to the English rental market. The devolved governments of Northern Ireland, Scotland and Wales have made separate arrangements for the lettings sector and readers in these countries should seek local legal advice if they have any questions about the regulations governing agency fees.

3) Reaction

The industry reaction to the publication of the draft legislation has been broadly positive, since there is widespread recognition that some agents have engaged in sharp practice for many years. Some observers have sounded a note of caution, though, arguing that agents can't be expected to offer their services for free. They might, goes the argument, respond to the new law by hiking their fees to landlords who will, in turn, need to raise rent prices in order to absorb their own extra expenses.

Researching this piece, one thing that struck Nethouseprices was that the announcement wasn't overtly or implicitly critical of the private rental sector. We find this rather refreshing after several years where the political rhetoric has tended, intentionally or otherwise, to demonise landlords rather than acknowledging the valuable contribution they make to the country's housing market.

Further information on the draft Tenant Fees Bill can be found at: https://www.gov.uk/government/publications/draft-tenants-fees-bill.


Consultation on client money

The DCLG is also running a six week consultation on client money arrangements. The paper essentially asks for views on whether it should be mandatory for those letting and managing agents that hold client money to join a client money protection scheme. It also covers the questions of how such a scheme should be designed and by what mechanism it should be enforced. If you wish to read and respond to the consultation paper, see: https://www.gov.uk/government/consultations/mandatory-client-money-protection-schemes-for-property-agents.

The team here at Nethouseprices hopes that you have found this feature interesting. Visit us soon for further news on the private rental sector and for our coverage of house prices in the UK.
You can also sign up to our newsletter and join Nethouseprice's community of over 190,000 members who get regular property tips, relevant offers and news, click here http://nethouseprices.com/auth/user-register
Source: Nethouseprices 9/11/17