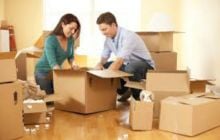 Part One

This is traditionally a time of year when we start evaluating the previous twelve months and making plans for the future. There are some fairly typical resolutions, with a great many of us contemplating a fitness régime and weight loss or perhaps improving our minds by enrolling on a course of further education. A large number of us also think about housing, debating whether to relocate in the new year or to carry out some improvements to our current homes. If you are leaning towards the latter option, you are not alone: according to research conducted by Compare the Market, almost 60 per cent of the 2500 households polled say that they plan to stay put for the next eight years and renovate their existing property. In this Nethouseprices feature, we look at their rationales for not moving and some of the other fascinating statistics revealed in the study. In Part Two of the series, we will discuss whether home improvements are always profitable and set out things you need to consider before embarking on a major project.

Compare the Market research

The headline findings were that, of the 59 per cent of households eschewing a step up the property ladder in favour of remodelling their existing homes:

- 31 per cent cited rising house prices in the UK as being a key factor in their decision.
- 26 per cent said that issues around Brexit were putting them off moving.
- 31 per cent said that Stamp Duty was prohibitively expensive.

The figures are intriguing for several reasons and they do tend to support the view expressed by numerous housing economists, and contested in parts of the press, that the recent slowdown in the residential property market is attributable to affordability problems, Brexit uncertainty and, of course, that old bugbear, Stamp Duty. The other inference is that it might be quite some time before we start seeing property prices rising at the dizzying rate we saw between 2010 and 2016.

People do have non-financial motives for not moving house. It is, for example, entirely possible that you believe you are already living in your perfect home and see no advantage in seeking out pastures new. In this situation, if the need arises for the addition of a room, for example, it makes real sense simply to make the necessary adjustments to your present home.

Similarly, you might be attached to your neighbourhood and wish to remain there. Or maybe your children are flourishing at a superb local school and you don't want to compromise their progress by relocating to a different catchment area.

Circumstances, of course, change, and it's unlikely that all of those people intending to remain in situ will ultimately do so.

Types of improvements

So, what sort of home improvements do people have in mind? Well, Compare the Market found that:

- 24 per cent of those surveyed wanted to refresh their kitchens. This isn't in any way surprising, since families tend to regard this room as being the most important space in their homes and a refit will not only enhance their enjoyment but potentially increase the house valuation when the time comes to sell up and move on.

- 20.6 per cent said that they intended working on their bathrooms. Again, this is a fairly predictable ambition, since a stylish, modern and functional bathroom is crucial for your own comfort and that of prospective buyers.

- 17.4 per cent plan to modify their lounges. We tend to spend much of our leisure time in our sitting rooms and they are known, when tastefully decorated, to be high on the list of house-hunters' requirements, so it is sensible to target this part of your house for improvement.

Other facts and figures

As well as being expensive, there are some other important drawbacks to this sort of venture, though:

Firstly, some 12 per cent of respondents admitted to having injured themselves while doing work around the house on a DIY basis. There is no indication of the severity of the injuries, so we have to assume it includes such relatively minor issues as hitting thumbs with hammers, as well as potentially life-threatening events like falling off ladders. In any event, the obvious moral of the story is that we need to be more careful and only take on DIY projects when we are confident that we can do so safely and without risking life and limb.

Secondly, a troubling 19 per cent expected home improvements to cause domestic arguments. Again, we don't know the detail of these disputes and whether they are occasioned by differences of opinion over, say, colour schemes, or general irritability with the disruption.

Finally, six per cent of those polled said that they had carried out work by themselves, botched the job and then needed to engage a professional to undo the damage. Home improvements are expensive, so the temptation to try to DIY is understandable, but it seems that we need to be more realistic about our competence and accept the old adage about the cheapest option not always being the best! Finding a skilled and reliable tradesman is often more difficult than you would expect. For further reading on finding the right professional for your work, see the following Nethouseprices guide: https://nethouseprices.com/news/show/2371/nethouseprices-a-guide-to-choosing-a-tradesman.

Is it always profitable to make home improvements?

Well, in the financial sense, the answer is "not always." In the second part of this feature, we will compare and contrast different parts of the home and the money typically added to your house valuation when you remodel them. We will also look at regional variations because, astonishingly, in some parts of the UK, you can actually lose money when you carry out renovations. Visit us again soon for this and for our news coverage of house prices in the UK, the private rental sector and housing policy. Don't forget to check out our other online services, like our instant valuation tool.

Source: Nethouseprices.com 13.11.17