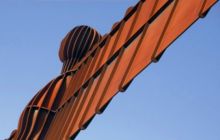 There's been a great deal of buzz around the English regions in recent months and deservedly so: many of them are prospering economically and faring rather better than the traditional drivers of the country's economy - London and the South East - in terms of house price growth. One region which tends to fly under the radar somewhat, though, is the North East. Such coverage as this corner of England receives tends to be limited to the generally modest performances of the local football teams and the monthly footnote to the Office for National Statistics (ONS) house price index revealing that, yet again, the region is host to the lowest house prices in the UK. There is, of course, much more to this fascinating part of the country which boasts vibrant cities, a national park, a dark sky park, two World Heritage sites, a wild coastline and - right now - a booming economy and some of the fastest rising wages in Great Britain. In this Nethouseprices feature, we look at property prices in the North East and assess its many advantages before asking what lies ahead for the region.

Cost of housing in the North East

For these purposes, we use the latest ONS house price index, which is collated using official Land Registry sold prices. To place the North East figures into context, we start by setting out the relevant UK and English averages.

A) UK:

- The average cost of a home across the UK is now £226,367.
- The price of a residential property rose by 5.4 per cent in the year to September.

B) England:

- The average cost of a home in England now stands at some £243,945.
- Property prices increased by 5.7 in the twelve months to September.

C) North East of England:

- A house in the North East costs an average of £130,271.
- Prices grew by 4.4 per cent in the year to September.

D) Selected North East of England local authority areas:

1. County Durham

- Average house price = £105,208.
- Annual price growth = 3.1 per cent.

2. Darlington

- Average house price = £133,793.
- Annual price growth = 5.1 per cent.

3. Gateshead

- Average house price = £129,568.
- Annual price growth = 1.9 per cent.

4. Middlesbrough

- Average house price = £109,945.
- Annual price growth = 1.9 per cent.

5. Newcastle upon Tyne

- Average house price = £164,985.
- Annual price growth = 4.2 per cent.

6. North Tyneside

- Average house price = £155,798.
- Annual price growth = 0.3 per cent.

7. North Yorkshire

- Average house price = £216,288.
- Annual price growth = 5.1 per cent.

8. Northumberland

- Average house price = £155,798.
- Annual price growth = 1.7 per cent.

9. Redcar and Cleveland

- Average house price = £122,920.
- Annual price growth = 3.3 per cent.

10. South Tyneside

- Average house price = £124,804.
- Annual price growth = -1.0 per cent.

11. Sunderland

- Average house price = £118,276.
- Annual price growth = 5.6 per cent.

While these figures are of official provenance and are generally regarded as being reliable, they don't tell the whole story. There are huge differences in the relative sizes of the local authority areas, for example. County Durham is a so-called "super authority" and covers a large area with a large population while Northumberland is one of the least populous areas of the country. At the same time, much of the new development in Newcastle city centre has been student accommodation rather than standard housing, which in itself distorts the picture. Even allowing for these local idiosyncrasies, though, it's fairly clear that the North East has some of the most affordable house prices in the UK.

Advantages of living in the North East

1. Natural assets

This is best summarised by the fact that, when you alight at Newcastle Central Station, you are half an hour away from award winning beaches and a wild coastline, the splendours of the Northumberland countryside and the North Pennines Area of Outstanding Natural Beauty.

2. Culture, history, heritage

The region isn't just blessed by nature. It is steeped in history and culture. Think of Durham's breathtaking Norman cathedral, a UNESCO World Heritage Site, or of Hadrian's Wall and the Roman settlements of Northumberland, sites which are similarly recognised by UNESCO. Then there are Newcastle's two renowned universities, its famous Theatre Royal - the only theatre outside of Stratford that the Royal Shakespeare Company regards as "home", and the magnificent architecture which has been described as some of the most elegant in Europe. Gateshead is home to the Sage concert hall, one of the main cultural hubs in the UK. And you can't talk about this part of the world without mentioning the Newcastle Quayside and the Tyne bridges. In the available space, it's impossible to list all of this area's attractions, but we hope we have given a snapshot of its delights and challenged the perception held in some quarters that it is merely a post-industrial wasteland.

3. Facilities and amenities

One characteristic of the North East which often surprises visitors is its excellent transport facilities - which are going to be boosted by significant investment in the Tyne and Wear Metro system - and superb links with London and the country's other great cities. The region's health service is invariably well-placed in national performance tables, with such hospitals as Newcastle's Royal Victoria Infirmary and Freeman Hospital, Middlesbrough's James Cook Hospital and Sunderland's Royal Hospital being among the best in Britain. As for shopping, in Newcastle's Eldon Square and Gateshead's Metro Centre, you have two of the UK's and indeed Europe's largest retail operations.

The future

Even the most ardent admirer of this region will admit that, since the decline of its heavy industries, the North East hasn't fared especially well, economically. This is changing, however. Readers might recall our recent feature on the Barclays Property Predictor, which suggested that the area would outperform many others during the next five years, in no small part because of projected jobs market growth, rapidly rising wages and a healthy business start-ups scene. In common with the rest of the UK, the North East faces an uncertain time during the Brexit transition, but it is well-placed to meet the challenges head-on and its future looks very bright.
We hope you have found this piece interesting and that you visit us again soon for our property news coverage and our other range of services, including our free instant house valuation tool.
You can also sign up to our newsletter and join Nethouseprice's community of over 190,000 members who get regular property tips, relevant offers and news, click here http://nethouseprices.com/auth/user-register
Source: Nethouseprices.com 27.11.17