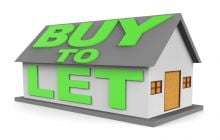 The main indices of house prices in the UK are - following the Christmas and New Year break - running a little late this month. The Department for Communities and Local Government (DCLG) has, however, given the team here at Nethouseprices plenty to discuss, announcing that it was reforming licensing arrangements for houses in multiple occupation (HMOs) in England. While the government continues to encourage homeownership, as evidenced by the raft of help-to-buy measures introduced in recent years, it has stressed that it wants to make the housing market more secure for those who are unable or unwilling to buy their own home. A key strand of this ambition is tackling unsafe living conditions within the private rental sector and accordingly, in 2016, the DCLG launched a consultation on strategies for dealing with so-called rogue landlords. The proposed licensing reforms published at the end of December are the result of this consultation exercise. In this short article, we ask why the sector is regarded as being ripe for reform and set out the salient features of the proposed new framework.

Ripe for reform?

During the past decade, the private rental sector has experienced unprecedented growth. According to the DCLG, there are some 4.3 million rented homes in England, of which 500,000 are HMOs. Despite the relative lack of regulation, at least in England and Wales, most providers of HMO accommodation are highly principled and offer safe, clean and secure homes to their tenants. There is, however, a rogue element - a group whose activities are as distasteful to most decent landlords as they are to the general public - which provides housing that is unsuitable, overcrowded and generally unsafe. There are three key reasons why this issue needs addressing:

1) The occupants of HMOs are, as the DCLG points out, often some of the country's most vulnerable individuals and families. Insecure and inappropriate housing is known to exacerbate the problems faced by these people and it's only right that they should receive some protection from the minority of landlords who would take advantage of them.

2) Overcrowded and poorly maintained properties can have a corrosive effect on neighbourhoods, compromising the quality of life of the wider community.

3) It is inherently unfair to those landlords who dedicate effort and resources to providing decent homes that others should be permitted to cut so many corners and, in so doing, endanger occupants and besmirch the entire sector.

It is for these reasons, said Housing Minister, Alok Sharma, that the government has developed a "targeted and proportionate" framework for licensing HMOs.

Central provisions

Assuming that the proposed rules pass unamended through the Houses of Parliament, they will provide for the phased introduction of mandatory licensing of:

- certain HMOs which are occupied by five or more people from two or more separate households, irrespective of the number of storeys in the premises.
- any HMO which is a building or converted flat where the respective households share or lack basic hygiene and cooking facilities.
- purpose-built flats where there are no more than two flats in the block and one or both of them are occupied as an HMO. Local authorities will retain the power to require mandatory licensing of larger purpose-built blocks, where these are deemed problematic for residents of the local community.

As well as expanding the scope of HMO licensing rules to include new categories of premises, the law will introduce important new rules relating to space and maximum occupancy of rooms used for sleeping. Put briefly, these will mean that:

- there will be an absolute minimum size prescribed for rooms that may be used for sleeping:

i) a single adult's room must be a minimum of 6.51 square metres.
ii) a room for two adults must be at least 10.22 square metres.
iii) a room for a children under the age of ten must be a minimum of 4.64 square metres.

- local authorities must specify in the licence for any HMO which rooms are suitable for sleeping and by how many children and adults.


- the specifications relate to minimum size and are not a target size. Local authorities will be therefore be able to require that sleeping spaces are bigger than the national minimum.

- there will be a system of sanctions for deliberately breaching these rules. Local authorities must, however, give landlords a reasonable time to comply with them without being sanctioned unless there is evidence that the breach is intentional.

To prevent HMOs from becoming unsanitary and compromising the health and safety of occupants or blighting the wider neighbourhoods, landlords will be responsible for providing facilities to ensure that occupants can comply with local authority regulations around the storage and disposal of domestic waste.

The rules will be introduced via secondary legislation during the course of 2018.

Nethouseprices view

Reading the full DCLG paper which summarises the responses to the government's initial consultation on the topic, it is clear to us that the measures will be welcomed across the industry and by the public at large. They are designed to curb bad rental practises, protect residents and level the playing field for those landlords who do strive for higher standards. What we find encouraging is that the government takes pains in its briefing to emphasise the essential decency of the vast majority of landlords. Given the negative rhetoric around the private rental sector - from sections of the media as well as from politicians of all hues - it is refreshing to see the value and quality of the service provided by most landlords being recognised.

This article is the briefest of summaries of the new rules. We recommend that those who believe that they will be affected read the full DCLG paper, which can be found at: https://www.gov.uk/government/consultations/houses-in-multiple-occupation-and-residential-property-licensing-reforms, and take professional advice where necessary.

If you have found this article interesting, do visit us again soon for analysis of house prices in the UK, updates on the private rental sector and coverage of housing policy developments. While you are here, why not try out our other great services, including our free instant house valuation tool.
You can also sign up to our newsletter and join Nethouseprice's community of over 190,000 members who get regular property tips, relevant offers and news, click here http://nethouseprices.com/auth/user-register
Source: Nethouseprices 4/1/18