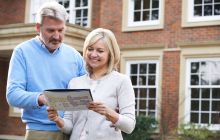 Historically, the UK has been recognised worldwide as an excellent location for property investors. Among the many reasons for this, four in particular stand out:
It's the 4th biggest property market in the world
It offers political and economic stability
It has enviably transparent legal processes
It welcomes overseas investors with open arms
In this article, we'll see where else in the world would be able to fulfil these criteria.
UK yields coming under pressure
There's a shortage of residential housing land right now in the UK, especially in the urban sector. Developers are desperately outbidding each other and consequently land prices have risen by some 4.7% in the last year, ironically outstripping new house values.
Building materials have gone up by as much as 35%, especially imported goods in the post-referendum sterling collapse.
This means all construction, whether new build, conversion or refurbishment, is more expensive – in turn making high yields for new investors a very rare sighting.
Where's the smart money going?
Matching the UK for stability, legal rigour, overseas ownership and surpassing it by being the world's largest real estate market, the USA is attracting a lot of attention from investors both at home and abroad.
In fact, the National Association of Realtors reports that foreign investors bought nearly 285,000 US residential properties in the year to March 2017 at a cost of $153 billion. This was an all-time record, and up by 49% on the year before.
Almost half of those properties were concentrated in 3 states – Florida , Texas and California.
What does US real estate offer investors?
The Association of Foreign Investors in Real Estate put the USA at the top of the table in their latest Foreign Investment Survey. Analysts have identified 4 key areas of appeal:
Opportunity – the world's largest economy and its largest property market between them offer access to a wide range of money-making options which perhaps aren't as readily available domestically to overseas investors.
Security – because the USA's real estate market is so tightly regulated, investors feel that the American section of their portfolio can act as a hedge to protect their yields and capital growth prospects elsewhere.
Stability – historically the USA has an excellent track record of political and institutional solidity. This is especially appreciated by investors from the potentially volatile BRICS nations.
Personal safety – following on from the last point, in the event of domestic turmoil, many overseas investors are conscious that owning a US property could be a handy bolthole. Regardless, the USA is regarded as a nation which welcomes trade and enterprise from anyone from anywhere in the world.
James Harrington, Business Development Manager at US real estate specialists Emerging Property thinks UK investors might do well to look across the pond. "What I'd call a decent yield, about 8-12% NET, is going to become increasingly rare in the UK market. But in the States a good serviced apartment investment can still bring you over 9% NET. The Americans really like these alternatives to traditional hotel rooms and they're building them in some of the most visited places on the planet, so high occupancy isn't going to be a problem. Another good thing is that the US real estate market works in English, so it makes an investor's research and due diligence a lot easier than in other overseas destination. Also, another tip, some of these US investments give owners free usage of their properties, which is a great little bonus – especially for families."
Source: Emerging Property 2nd february 2018