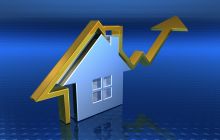 Just when the industry was reaching the consensus that house prices in the UK would remain static in the early months of 2018, one of the major institutional indices reports that - contrary to all but the most optimistic expectations - they rose by 0.6 per cent in January. Yes, that is the headline finding of the latest Nationwide house price index, and it illustrates rather graphically one of the defining characteristics of this country's housing market - that it quite frequently defies the prophets. As encouraging as the index unquestionably is, though, it does conceal an underlying trend around mortgage approval rates which is somewhat troubling. In this Nethouseprices article, we set out and analyse the salient features of the Nationwide study for January.

Nationwide HPI for January: the headlines

The index, which is collated using the building society's own mortgage-lending figures rather than on Land Registry sold prices, found that:

- House prices in the UK rose by 0.6 per cent in January, having increased - once again, contrary to expectations - by the same amount in December 2017.
- In the twelve months to January, property prices rose by 3.2 per cent, up from the 2.6 per cent growth recorded in the year to December.
- The average cost of a home in the UK was £211,756 in January, up from £211,156 in December.

Meanwhile, official figures cited by Nationwide reveal that just 61,000 mortgages were approved in December, the lowest figure in three years.

Nationwide interpretation

Discussing his organisation's latest statistical release, Russell Gardener, Chief Economist at Nationwide, admitted that the figures were slightly surprising. Like most housing analysts, Mr Gardner has projected limited growth this year, so he presumably wasn't expecting so robust a set of data. Added to this, the wider economy showed very real signs of slowing, with the retail sector - so important a barometer of consumer sentiment - being especially weak. Going forward, he said that much depends on the shape taken by the UK's Brexit negotiations, adding that the uncertainty surrounding this issue makes it difficult to anticipate the direction of house prices. He nonetheless feels that low interest rates, a flourishing jobs market and the ongoing shortage of homes for sale will support at least modest rises. On the negative side, however, he believes that the duel pressures of low wage growth and high general inflation will act as anchors on the market. In other words, there appears to be little chance of growth matching that seen in the boom years of 2013-16.

Mr Gardner was somewhat perplexed by the statistics relating to mortgage approvals. Certainly, the year end is typically rather volatile, but these particular figures follow relatively weak showings in October and November. Nethouseprices readers might remember a recent article where we discussed the similar findings of a study by UK Finance and the opinion of Samuel Tombs of Pantheon Macroeconomics, that the decline was a direct result of the Bank of England raising the lending base rate and, in doing so, seriously overestimating the capacity of consumers to cope with even a small hike in interest rates.

Reaction elsewhere

Bringing with them an element of surprise, the Nationwide figures garnered a great deal of media attention, with the newspapers soliciting the views of industry experts. Chris Scicluna, of Daiwa, for instance, said that the aforementioned pressures on household finances and the resulting fragility of consumer confidence made it unlikely that this sort of momentum could be sustained during the coming months and quarters. He did, however, concede that low interest rates, high employment, the limited supply of homes and general price inflation easing might give prices a fillip.

Howard Archer, of the EY Item Club, was inclined to agree with the first part of Mr Scicluna's analysis, saying, like so many of his counterparts, that limited wage growth, high levels of inflation and Brexit uncertainty would circumscribe growth this year. He maintains that UK property prices will rise by a maximum of about 2.0 per cent.

Meanwhile, Samuel Tombs - also quoted above - said that the pace of growth reflected in Nationwide's January index was hard to reconcile with virtually all other indicators and he believes that it is simply unsustainable. Mr Tombs is consistently one of the least bullish housing commentators and it doesn't come as a great surprise to see him taking so downbeat a position. He has previously expressed reservations about the reliability of the various house price indices, although he has stressed that the Nationwide offering tends to be less subject to volatility than that of its competitor, Halifax.

And finally, Jonathan Samuels of property lender, Octane Capital, argued that growth was a reflection of the chronic supply weakness, rather than an uptick in demand. Squeezed incomes and Brexit fears, he added, would weigh down house prices during 2018, with most households likely to opt to "sit out" this year rather than committing to large projects like moving house.

Nethouseprices view?

We appreciate that readers would welcome some clarity and are understandably asking: "What will happen to house prices in my street?" Unfortunately, the economic and political climate in the UK is so uncertain that making definitive predictions is virtually impossible. Accordingly, all we can forecast is steady but unspectacular growth during the rest of this year. This being said, if the Brexit negotiations start to take a recognisable shape and the spectre of yet another general election fades, it's entirely conceivable that price rises will pick up significant pace. It is, then, very much a case of watch this space. We are still awaiting the monthly indices from Halifax, the ONS and the Royal Institution of Chartered Surveyors (RICS) and it will be fascinating to see whether their findings are in any way comparable to those contained in the Nationwide report.

We hope you have found this article interesting. Visit us again soon for our up-to-date coverage of developments in the UK housing market. In the meantime, do feel free to try our other services, including our free instant house valuation tool.
The team here at Nethouseprices hopes that you have found this guide useful.
You can also sign up to our newsletter and join Nethouseprice's community of over 190,000 members who get regular property tips, relevant offers and news, click here http://nethouseprices.com/auth/user-register
Source: Nethouseprices.com 05.02.18