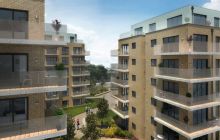 Like all great capitals, London's growth and prosperity have been driven at least partly by the energy and industry of residents from overseas. Take the city's status as the world's primary financial services centre. International institutions are headquartered here, bringing with them talent from every corner of the planet and contributing in no small way to the UK's economic strength. Likewise, investment from abroad is known to be absolutely central to getting new property building projects off the ground in London. As welcome as these international influences unquestionably are, they do have a serious side effect - affordable homes are often snapped up by overseas residents, making it increasingly difficult for local workers to get a foothold on the property ladder. Helping this category of house-hunters without alienating foreign investors has challenged policy-makers for many years, and the difficulty of reconciling these two important interest groups has restricted much in the way of policy intervention. Mayor Sadiq Khan, who was elected on a platform of promising to ease London's chronic housing problems, has now announced what he regards as a vital first step towards achieving his ambition. Londoners will be given first "dibs" on new builds in the capital. In this Nethouseprices article, we summarise the key features of the new measure and evaluate the initial reaction to Mr Khan's announcement.

First dibs for Londoners

Announced on 5 February, the policy is actually a collaboration between City Hall and various housebuilders and housing associations. These organisations have agreed to limit the marketing and sales of new builds costing up to £350,000 to UK residents for a period of three months. During this period, absolutely no overseas marketing or sales of the new properties will take place. Londoners are to be offered a further headstart - for a period of one month, the same homes can only be sold to people living and working in the capital.

Crucially, the scheme is voluntary, leading several of the Mayor's political opponents to question whether it will prove sufficiently robust. Nonetheless, as you'll see from the list below, some of Britain's biggest housebuilders are among the initial signatories and Mr Khan says that he is confident that more firms will sign up in the coming weeks and months.



Signatories

To date, the following companies and housing associations have subscribed to the scheme:

- A2 Dominion
- Telford Homes
- Bellway
- Taylor Wimpey
- Berkeley Homes
- Southern Housing Group
- Catalyst
- Redrow
- Clarion
- Peabody
- Countryside
- Optivo
- Crest Nicholson
- Notting Hill Housing
- London Homes
- Fairview New Homes
- Lendlease
- Genesis
- Hyde
- Hedley Property Group
- Hill

The Mayor speaks

In his briefing, Sadiq Khan said that the intervention was the outcome of research he commissioned last year. The most extensive study of its type ever conducted, the report firstly found that overseas investment is indeed vital in funding new housing development in London. Contrary to the perception that foreign buyers typically buy high end or luxury homes in the priciest postcodes, however, they purchase fifty per cent of all newly built properties costing less than £500,000. To put this into perspective, the average house or apartment in the city currently costs £467,001. Put simply, overseas buyers are taking up the more affordable homes that could realistically be bought by London-based first time buyers. The Mayor said that he is resetting the market in favour of Londoners. The scheme, he added, will be fully operational by the end of 2018, years before similar results could be achieved through changes to the planning system. A "Homes for Londoners" portal is currently being built at City Hall and this platform is expected to facilitate the first sales under the programme.

Mr Khan accepts that this policy is a first step and called for help from central government. He has, for instance, written to Chancellor Philip Hammond asking that he consider 24 month mortgage guarantees for first time buyers of new builds in London, a measure which would also give security to housebuilders.

Reaction and criticism

Much of the early reaction was positive, with newspapers and property market observers welcoming Mr Khan's clear determination to help those living and working in London to find homes there. As ever, though, there are serious reservations. Perhaps the most obvious concern - highlighted above - is that the scheme is currently voluntary. Without compulsion of law, goes the argument, it will be all too easy for firms to backslide on their pledges. We understand this point, but it does seem rather cynical given the enthusiasm with which the said companies have worked with City Hall. Equally, new signatories are expected imminently.

Another suggestion is that the policy will simply drive the price of new builds upwards. The implication here seems to be that housebuilders will inflate the asking price of their houses beyond £350,000 in order to bypass the new arrangements. It has to be said that virtually every housing policy intervention is greeted with the cry that it will defeat its own purpose by raising prices. A more apposite question, at least in our view, is given that London boasts some of the highest house prices in the UK, is the upper limit of £350,000 really adequate? This sum is, of course, significantly lower than the average cost of a home in the capital.

Finally, some commentators queried how the move would be perceived overseas. London is struggling right now to assert that - Brexit notwithstanding - it remains open for business. The fear, it seems, is that even as gentle a measure as that being suggested by Mr Khan will be interpreted abroad as a further sign that the capital is closing up shop and is abandoning its lengthy history of welcoming overseas business.

We will monitor this story as it develops. Visit us soon for the latest news. Coming this week: the Halifax index of house prices in the UK.
You can also sign up to our newsletter and join Nethouseprice's community of over 190,000 members who get regular property tips, relevant offers and news, click here http://nethouseprices.com/auth/user-register
Source: Nethouseprices.com 06.02.18